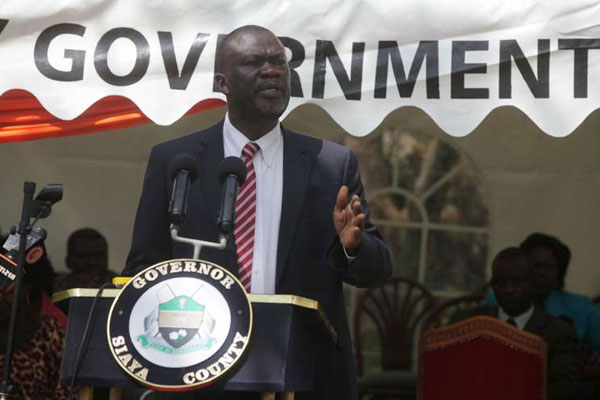 Siaya Governor Cornel Rasanga has banned the wife inheritance culture in the county to reduce the spread of HIV/Aids.
"The tradition of inheriting wives must be stopped at all costs," he said.
Rasanga met widows under the Rona Foundation in Wagoma village, Bondo, on Saturday. He urged widows in Siaya to shun wife inheritance and instead engage in economic activities that will sustain their livelihoods.
The governor proposed a kitty in the co-operatives' budget to support widows in starting businesses instead of seeking men to inherit them.
The county chief said it is only through economic empowerment that widows will not fall into the hands of preying relatives who inherit them on the pretext of providing for them. "In this era of HIV, the practice has lost meaning. Widows should find other ways of earning a living to feed their children," he said.
Rasanga plans to involve the Luo Council of Elders to help reduce the rate of HIV prevalence in the county.
The governor was with Mombasa speaker Thadius Rajuayi, Siaya assembly chief whip John Gare and MCA Nicholas Aneme. They encouraged widows to start small businesses.
"Widows should explore other financial avenues like the Uwezo Fund to access capital and take advantage of other opportunities provided by the county government," Rasanga said.
He said that in Alego-Usonga constituency, women are the ones who seek men to inherit them.
Rasanga said he will initiate several projects for the women to enable them to cater for their economic needs.
He added that when the widows are not inherited, they are shunned by the community.
The governor urged the community not to neglect or discriminate against women who are opposed to widow inheritance. Rona Foundation director Rosemary Adul wants the government to tackle insecurity so that widows don't lose their inheritance to greedy relatives.
"We have come together as widows to encourage each other and share information on how to deal with greedy family members," Adul said. She said Parliament should make amendments to the Succession Act as it sometimes takes up to five years for their inheritance cases to be heard.