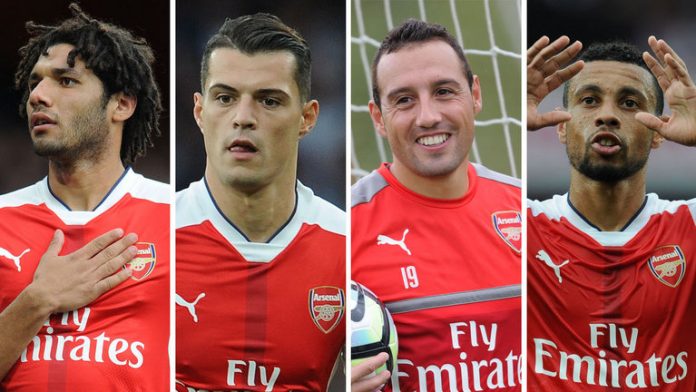 Central midfield was long considered an area of weakness for Arsenal but Arsene Wenger now has a number of options in the middle of the park, with Santi Cazorla, Granit Xhaka, Francis Coquelin and Mohamed Elneny all vying for two starting spots. The question is, which pairing is best?
Coquelin and Elneny replaced the injured Cazorla and suspended Xhaka against Middlesbrough on Saturday, stepping into the two holding positions in Wenger's preferred 4-2-3-1 formation.
However, they were unable to inspire the Gunners to victory – and Petr Cech was twice forced into good first-half saves when the visitors found a way through.
So what will Wenger do when he has all four players to choose from? We take a look at how the combinations he's used so far have done…
Cazorla, Xhaka, Coquelin, Elneny stats – Premier League 2016/17
Player
Goals
Assists
Chances created/90mins
Passes/90mins
Pass accuracy
Shots/90mins
Tackles/90mins
Interceptions/90mins
Santi Cazorla
2
2
1.45
81.57
90.09%
1.16
0.73
1.02
Granit Xhaka
1
0
1.1
86.25
85.04%
1.32
3.31
2.65
Mohamed Elneny
0
1
0.93
93.73
90.37%
0.93
2.33
1.4
Francis Coquelin
0
0
0.54
61.61
90.08%
0.54
1.07
Given Arsenal's results with Cazorla in the team so far this season, and the goals, assists and creativity he brings to the team, the Spaniard – when fit – will surely be one of the first names on Wenger's team sheet. The manager even had words of praise for his absent star on Saturday.
Asked whether Arsenal had missed Cazorla against Middlesbrough, Wenger said: "Of course, you always miss [him]. From deep midfield into the final third, with his pass is always quick and accurate."
The choice, then, is who will partner Cazorla: prolific passer Elneny, tough-tackling Xhaka – who has already shown his goal threat from long range – and chief destroyer Coquelin.