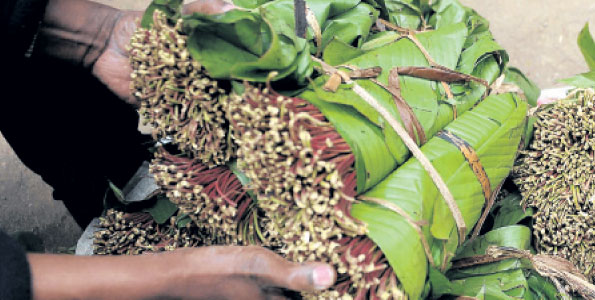 A teenager's right hand has been chopped off as punishment after he was accused of stealing miraa. Ruphus Kirimi, who is admitted to Chaaria Mission Hospital, claims a man who has leased his grandfather's land cut off his hand after accusing him of stealing his crop.
The victim says the local tycoon, who was in the company of two other men, waylaid him at Athiru Gaiti, Igembe South sub-county and beat him up. They later forced him on a motorbike and went with him to the farm where they attacked him.
"They tied me with ropes and beat me up some more. The businessman took out a sharp knife and cut off my right hand. When the knife reached the bone, he broke it before cutting off the hand completely and went away with it," Kirimi, from Kangutu village, said from his hospital bed. Kirimi, the first-born in a family of seven, denied stealing the man's crop. He said he was unfairly attacked. Locals claim the man cut off the boy's hand as a scheme to snatch their land.
There are claims rich men cut off hands of boys from poor families after accusing them of stealing miraa, then offer to take care of their medical bills and demand a refund later. But since targeted families are normally the poor ones, they never get to pay back the money and end up surrendering their land instead.
The boy's mother, Lucy Nchooro termed the attack as brutal and asked police to thoroughly investigate the matter and ensure justice is served.
"We are poor and we were all depending on him. We could not take him to school due to lack of fees and he was forced to drop out on Standard Four. He has been working on people's farms to support us. But now, he will no longer be able to fend for us or himself. This is unfair and we are calling on the police to act swiftly," said a distraught Nchooro.
Igembe South OCPD Jane Nyakeruma said they have already launched investigations into the attack. She said they are looking for one of the businessman's workers who is said to have cut off the boy's hand. "He (businessman) has already recorded a statement with us regarding the incident. He claims one of his workers was responsible and that is why we are looking for him," said Ms Nyakeruma.