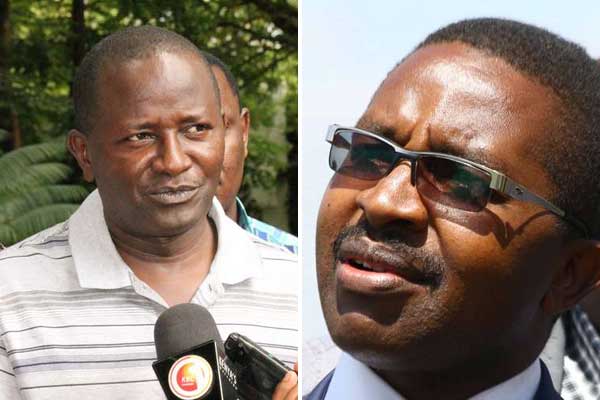 Murang'a Governor Mwangi wa Iria has once again dumped stinking piles of cow dung at a play field to stop his rival Jamleck Kamau from launching his manifesto.
In what has become a comical barrier to block the MP from holding meetings in the area, the County government has piled up 90 tonnes equivalent to 90,000 kilograms of livestock manure at the Murang'a University grounds, where Kigumo MP Kamau had booked to hold a public rally on Saturday.
The wet, organic waste is a second offering to the MP, after the county poured 10 tonnes of manure last week at another ground where the MP had planned to address a rally. Following the move, a simmering supremacy battle between Wa Iria and Kamau is set to escalate after the MP vowed to exercise his right to convene a meeting.
Kamau had planned to launch his manifesto at Mumbi grounds last week as he kicks off his bid to challenge Wa Iria for the governor seat. The county administration said last week that the manure is being spread in preparation for planting grass at the grounds.
A spot check at the field yesterday said lorries had worked overnight ferrying loads of manure to the venue. Boda boda operators, whose bay is at the edge of the field, said the night-long operation involved about 10 lorries.
Yesterday, Kamau claimed the governor had denied him a permit to use Ihura Stadium in Murang'a town to launch his manifesto. He vowed to hold his political rally on the same field with or without the manure.
"Tell the governor that come Saturday, I will go to the grounds to launch my manifesto because it is my right to do so," said Kamau. The MP requested county commissioner John Elung'ata to provide him with tight security during the meeting to avert disruption by his rivals.
A county official who sought anonymity, however, said the MP had not applied for a permit to use any of the two fields but the latter insisted he had applied.