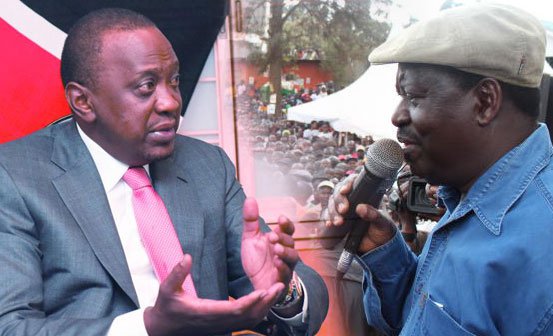 President Uhuru Kenyatta and Raila odinga have announced that they will not be attending the presidential debate that is being organized by Kenyan media.
The debate has been widely seen as copy of the American presidential debates.
According to Jubilee, the president will skip the debate because there have been no formal communication from the organizers on how, where and when the debate shall take place.
The debate is being organized through advertisements in the media by some people we do not know. They went ahead to give the dates of the debate with no consultation with the president. They have not contacted State House or the party. We do not know what the ground rules are and we won't participate," said Jubilee Party Secretary General Raphael Tuju.
The debate had been scheduled for July 10 and July 24.
A few hours after the president announced that he will not participate, NASA presidential candidate also came out to say that he will snub the debate as well.
According to NASA chief publicist Salim Lone, Mr. odinga will not take part due to the debate's current format. Mr. Lone faulted the media for he termed as bias aganist the opposition in the coverage of elections in the country.