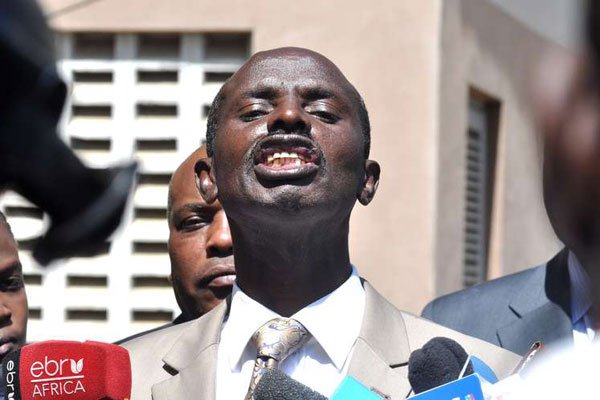 There was a standoff at the Kenya National Union of Teachers (Knut) headquarters on Monday morning after beleaguered secretary-general, Wilson Sossion, was barred from entering the offices by security men guarding the premises.
Mr Sossion, who was making true his declaration to go to the office despite his removal and consequent elevation of his former deputy, Hesbon Otieno, as acting secretary-general, came with a court order barring his removal from office and terming it unlawful.
"They have restrained me from accessing my office, to facilitate an illegal installation of a replacement, and blocked me from performing my duties to the teachers of this country, contrary to the directive of the Employment and Labour Relations Court," he said.
According to the court order, a temporary injunction order had been issued by the court on May 2, 2018, prohibiting his deregistration as an official of Knut and/or installing another official to the post, pending the hearing and determination of the petition filed.
"The application had been fixed for inter partes hearing on May 10, 2018 and therefore this other faction's occupation of the office is illegal and in contempt of the court order," said Mr Sossion.