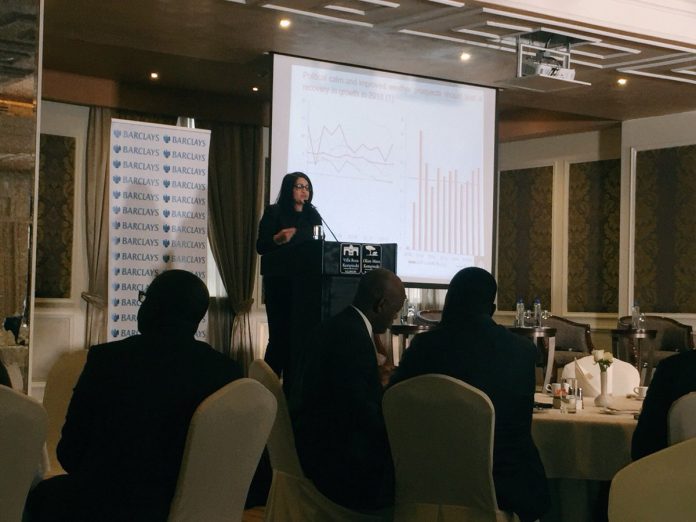 Barclays Bank of Kenya has held a forum on 2018/19 Kenya's budget. The forum, which was held at the Villa Rosa Kempinski on Monday morning focus on what the Sh. 3 trillion budget that was read by the cabinet secretary for National Treasury on Thursday portends.
The Corporate & Investment Banking (CIB) forum was graced by the Barclays group senior macro research analyst Samantha Singh. At the forum, the researchers at the forum noted that three years ago, at least 33 per cent of Kenya's budget was allocated to development. Currently though, this has plummeted and only 25 per cent is going to development. "Recurrent expenditure makes up 15.8 per cent of the country's GDP and 60 per cent of the budget," Ms. Singh noted.
Ironically, according to CS Rotich, this year's budget aligns with the government's Big Four Agenda, which includes manufacturing, universal healthcare, affordable housing, and food security. Subsequently, this agenda got an allocation of Sh. 400 billion.
Of this amount, Sh. 44.6 billion was allocated for universal health coverage, Sh. 6.5 billion was set aside for the provision of affordable and decent housing for all Kenyans, while Sh. 20.25 billion was allocated for the enhancement of food and nutrition security to all Kenyans by 2022. Additionally, Sh. 2.4 billion was set aside to support value addition and raise the manufacturing sector's share to gross domestic product to 15 per cent by 2022. Although the government has announced that the Big Four Agenda will be implemented on a public-private partnership basis, the National Treasury went on to impose taxes in a bid to raise funds for its implementation.
Strikingly, the forum noted that of all government's spending, the development budget for this financial year will be 6.68 per cent of the GDP. "This means that project performance and budgetary allocation should be linked and spending agencies should only be given resources that they can absorb with realistic targets and outputs," the forum noted.
The current concerns on Kenya's ballooning debt was also addressed. According to Ms. Singh,for every Sh. 10 raised, Sh. 4 currently goes to servicing debts. "However, the problem is not about the level of Kenya's debt but the servicing element," she said. This means that Kenya has joined Nigeria where 40 per cent of all revenue goes to debt repayments.
In the same vein, the forum looked at how the law that capped interest rates in 2016 has gone on to choke credit in the small and medium enterprises sector. The law is set to be abolished and replaced with the Financial Conduct Bill. However, the proposed bill might elicits more problems than solutions. "The financial markets conduct bill its likely going to increase the cost of regulation which involves double licensing," said Anthony Kirui, the head of Markets at Barclays. "It is heavily borrowed from the Western world, where there was aggressive credit expansion to people who should not have been borrowing. In Kenya the problem is the availability of too little credit."