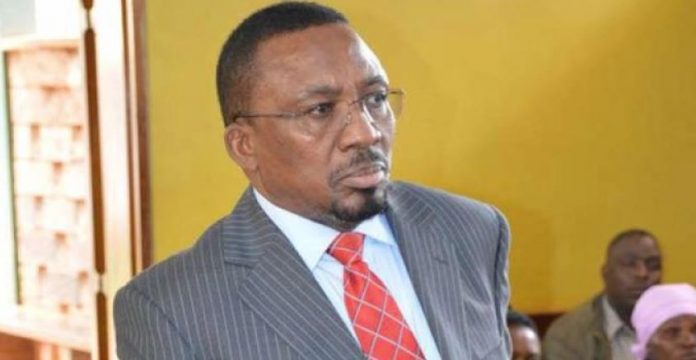 Neno Evangelism founder Pastor James Nganga has spoken out about claims that he is in hiding after he was involved in a hit and run accident.
A tweet, identified as Abraham Mutai revealed that the pastor is in hiding after causing an accident along Namanga Road.
Check out the tweet below.
Nganga spoke saying,
"I DONT KNOW WHY PEOPLE HAVE SO MANY STORIES ABOUT ME, I WAS NOT THERE EVEN IF I BOUGHT THE CAR, I HEAR IT HAS HIT A LORRY THAT WAS PARKED SOMEWHERE BUT I WAS NOT THERE, I CANT HIDE AND IF ANYONE WANTS TO KNOW WHERE I AM, JUST SEARCH FOR MY NUMBER.
"I'M NOT HIDING, WATU WAANGALIE NUMBER PLATE YA GARI WAJUE KAMA NI YANGU (PEOPLE SHOULD LOOK AT THAT CAR'S NUMBER PLATE AND ASK THEMSELVES IF THAT IS MY CAR)."
In his usual fashion, he bragged that he has too much wealth to go into hiding.
"I HAVE MY CARS, HOTEL AND CURRENTLY I AM BUILDING A PRAYER HOUSE IN JERUSALEM, THAT'S WHERE I HAVE BEEN GOING. ATI WANASEMA NAJIFICHA."
He continued,
"I'M IN THE SAME CATEGORY WITH DP RUTO AND I DON'T WANT MY NAME TO BE CLEAN, YOU CALL ME CONTROVERSIAL. NILIKOHOA MKAITIKA," HE SAID.
Nganga who is not amused asked,
"MNATAKA NITREND KWA NINI?" ADDING, "KAMA MAMA WA 'TWA TWA' ALITREND, MIMI NI NANI?
ACHA NITREND MY GOD WILL FIGHT FOR ME."