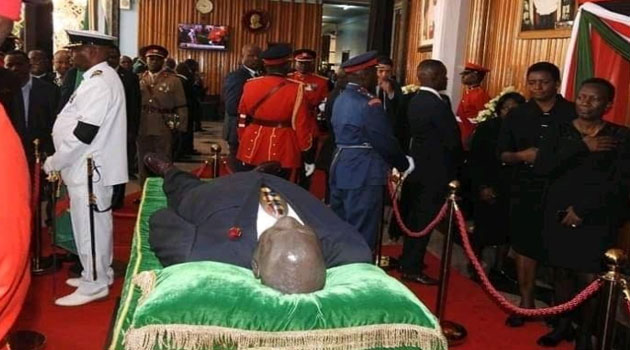 Kabarak University Vice-Chancellor (VC) Henry Kiplangat has shared his last conversation with President Moi before he passed away.
Speaking during a recent inter-denominational prayer meeting Professor Kiplangat said that Moi was prepared and ready to die.
HE KNEW HIS CREATOR AND ALL I CAN SAY IS THAT WE NEED TO EMULATE THE LATE PRESIDENT MOI'S STRONG RESOLVE FOR CHRISTIANITY AND FOLLOW JESUS CHRIST THE WAY HE DID BEFORE HE JOINED HIS MAKER," HE SAID.
He narrated how when he and others went to visit Moi days before he was readmitted to the Nairobi Hospital and his message was left them shocked.
"WE WENT TO HIS HOUSE AND MZEE TOLD US HII MWILI YANGU SI MZURI (I AM NOT FEELING WELL) AND I'M GOING TO NAIROBI AND I DON'T KNOW WHETHER I WILL COME BACK.' WE WERE SHAKEN," THE VC SAID.
Prof Jacob Kibor, who served as provost at AIC Kabarak Chapel for many years said the retired president called them and asked told them to pray with him just in case he didn't come back from the hospital.
'MZEE MOI TOLD US THAT NOTHING WILL STOP HIM FROM ENTERING HEAVEN,' HE SAID.
Moi was eulogized as a great, witty, loving, forgiving, and patriotic Kenyan.