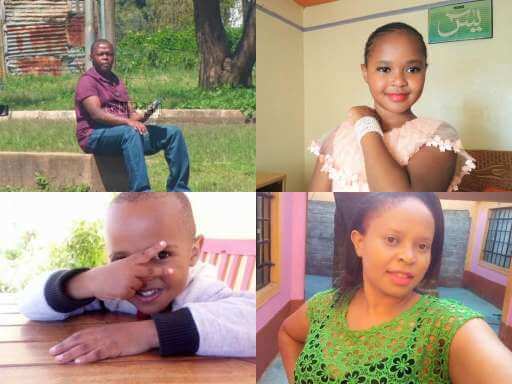 Hannah Mugure, 75, mother to former KDF soldier Major Peter Mugure has revealed she did not know that her son had kids with the late Joyce Syombua.
According to Hannah her son was a man who kept to himself.
Speaking in an interview with Citizen TV she said,
'HE HAD NO FRIENDS, HE ONLY PLAYED WITH BOOKS.'
It is alleged that Major Mugure first introduced the late Syombua to his family in 2005.
Hannah said,
'IN 2005 HE CAME WITH JOYCE AND TOLD ME ONCE HE CLEARED SCHOOL HE WOULD MARRY HER, HE TOLD ME HE HAD SPOKEN TO HER MOTHER AT THE TIME.
I AM FEELING VERY OPPRESSED WHEN I HEAR THAT MY SON HAD KIDS WITH SYOMBUA, I HAD NEVER MET SHANICE OR PRINCE MICHAEL.
NO ONE EVER TOLD ME ANYTHING.'
Ironically the family of ex-KDF man lives in Kayole not too far from Syombua's parents home.
Mugure is currently being detained after the judge granted a request by the prosecution to have him held for 21 days as they continue with investigations.
Syombua and her kids are yet to be laid to rest.
They say blood is thicker than water.
This was clearly evident when the sister to Major Peter Mugure came out to defend him over the murder of his wife and kids.
The ex-KDF army officer is being detained after the lifeless bodies of his estranged wife Joyce Syombua, daughter Shanice and son Prince Michael were recovered.
Speaking during an interview with Citizen TV, she said
'MY BROTHER HAS NEVER SMOKED ,DOES NOT DRINK, HE IS JUST A STRAIGHT GUY.
'MY BROTHER HAS NEVER SMOKED ,DOES NOT DRINK, HE IS JUST A STRAIGHT GUY.
MY BROTHER IS AN HONEST MAN. HE CANNOT KILL A FLY.'
The bodies of Syombua, her 10-year-old daughter Shanice and son Prince Michael, 5, were found buried at Kilimo Indians' cemetery in Thingithu area.
The bodies, which were exhumed by homicide police officers in collaboration with military police, were in three sacks and tied with ropes.
Detectives were led to the scene by a cleaner based at Laikipia Airbase and Syombua's ex-lover Maj Peter Mugure, who is the prime suspect in the murder.
Syombua, 31, and her two children went missing on October 26 after their visit to Mugure, 34, at the airbase in Nanyuki.
Police are suspecting that the bodies could have been buried on the night of October 26.
According to a post mortem carried on the bodies, Syombua was hit with a blunt object and the kids were strangled with a rope.
Johansen Oduor, the Chief Government Pathologist said,
"THE ADULT FEMALE HAD INJURIES ON THE HEAD, BLUNT TRAUMA AND BLEEDING IN THE BRAIN. THE KIDS HAD BEEN STRANGLED USING A ROPE."