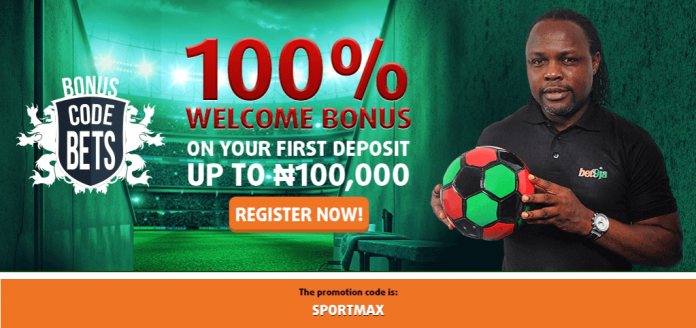 Many local sports gaming fans have for a long time been constrained under the local betting channels. This is set to change with the entry of a new betting firm. While the new betting firm known as Bet9ja may be the new kid on the block to local sports gaming fans, it is not a newcomer in the African sports gaming scene.
In fact, there not many African sports gaming firms that host a wide variety of globally acclaimed gaming standard features as Bet9ja.
Currently located in Nigerian but available to all Africans with access to the internet, Bet9ja was founded in 2012 by the KC Gaming Limited. Over the past five years, the firm has grown to become the leading sports betting firm in Africa's most populous nation.
Unlike many other gaming website, Bet9ja comes with a betting bonus code that ensures that participants have higher levels of earning from their bets.
This code is known as the SPORTMAX Bet9ja Bonus Code. "The bonus code will allow you to earn up to 100 per cent of the value of the amount you deposit in order to place a bet," says the firm in a statement.
Make sure to check bet9ja review and promotions and signup for an account.
After signing up, you will then be required to enter the Bet9ja bonus code which is SPORTMAX. "These two steps alone will be enough to get you to the position you need to take home the 100 per cent bonus in the Bet9ja promotion."
Interestingly, to make bets, you can easily download the Bet9ja Android Mobile App on your phone. "We also have a mobile page that is easily accessible on all mobile phones that have browsing capabilities," says Bet9ja in a statement.
To take part, you will need to make a minimum deposit of Ksh. 34 which is equivalent to USD 0.32 and 100 Naira.
"Once you start betting, you will need to turn over the sum of the deposit and bonus u to five times before it becomes eligible for withdrawal." This means that if your first deposit is Ksh. 1,000 you will receive Ksh. 1,000 as free bonus. Your deposit plus your bonus will now be equal to Ksh. 2,000. To withdraw, you will need to have rolled this amount by five times to come up with Ksh. 10,000 and make successful bets on fixtures with odds equal or greater than 1.8.