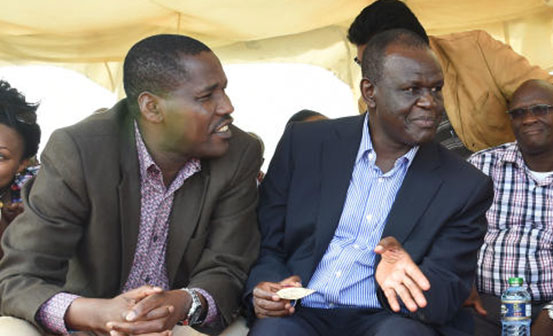 Meru Governor Peter Munya has accused Senator Kiraitu Murungi of failing to adequately lobby for national government projects for the county.
Mr Munya said the county government was struggling to implement its flagship projects while others were yet to kick off due to limited funding.
He said several other counties were getting multibillion-shilling national government projects due to their leaders' keenness to push for the resources.
Mr Munya said the county was struggling to finish construction on the Kinoru Stadium while money for construction of three mega dams has not been raised.
"When I visit other counties, I see mega projects that have been lobbied for by national leaders. We are struggling to raise money [to complete] Kinoru stadium. What has Senator Murungi done?" Mr Munya posed.
'MURUNGI HIJACKED MEETINGS'
He said a section of Meru MPs led by Mr Murungi were falling over themselves to take credit for Water Cabinet Secretary Eugene Wamalwa's recent tour of proposed dams in the county.
"The county government struggled to do feasibility studies and mapping of three mega dams in Nyambene and Mt Kenya forests. We convinced the water CS to visit them and see the possibility of their funding, but Mr Murungi hijacked the meetings," he remarked.
The governor further disagreed with Mr Murungi over the amount of money that should go to development in the county.
"It is true that we receive more than Sh7 billion from the exchequer every year. But only 30 per cent of this money goes to development. This translates to about Sh2 billion and Sh100 million for every sub-county. This is equal to what CDF gets," Mr Munya said.
Mr Murungi has accused the county government of failing to prudently spend its development money.
The Council of Governors chairman, who was accompanied by Party of National Unity (PNU) secretary-general John Okemwa and executive director Paul Rukaria said his government was keen to ensure equitable distribution of resources.
EYES ON 2022
Mr Munya is taking advantage of his development tours of the county to popularise the PNU party.
"My political threat against my opponents is very real. This is why they are irked by my party choice. I intend to use PNU to continue my development agenda in the county and at the national level later," he said.
The county boss is set to commission 24 dispensaries that have been renovated and equipped with drugs this month.
Last week, Mr Munya announced he would seek re-election on the PNU ticket, on which he said would also vie for the presidency in 2022.
The governor has crossed swords with Jubilee coalition leaders for opposing the dissolution of parties to form the Jubilee Party.
Although he says he will back President Uhuru Kenyatta and his Deputy William Ruto's re-election next year, he says he will square it out for the presidency with the DP in 2022.
He says he settled for PNU after the dissolution of the Alliance Party of Kenya, where he was director of elections, because the party had done a lot for Kenyans during President Mwai Kibaki's tenure.
– Daily Nation