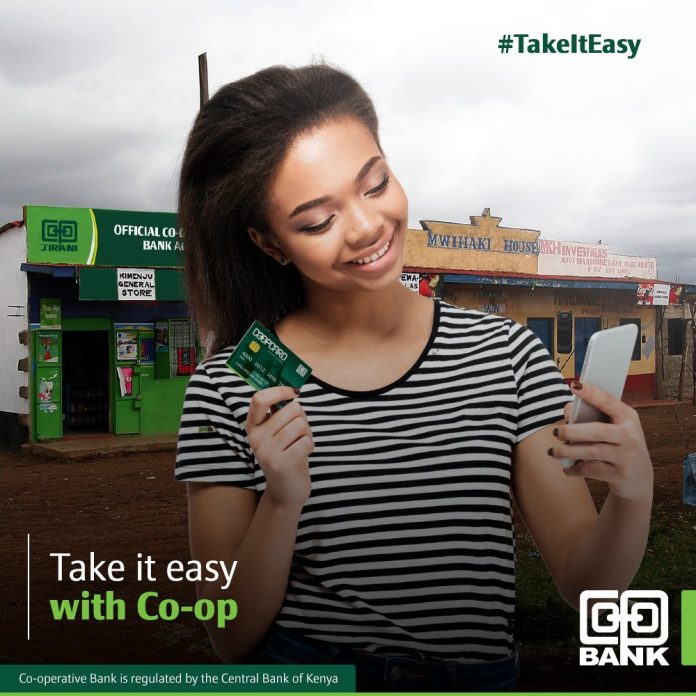 Over time, the local financial market has undergone a transformation. This financial transformation has to a large extent involved the adaptation of digital monetary transactions in the way consumers interact with businesses.
In any given event, more and more Kenyans are using technology and digital channels to carry out daily activities such as shopping. Subsequently, financial institutions have been racing to adapt to technology and offer efficient and easy to use products that are conversant with the needs of the common Kenyan consumer.
Leading this pack has been the Co-operative Bank, which is popularly known as Co-op Bank. Over the past few years, the bank which is the third largest in profitability in Kenya has not only been implementing a growth and profitability strategy, but launching new products that are designed to meet the basic needs of Kenyans.
Interestingly, these products come with features that allow Kenyans to shop and carry out banking service anywhere across the country and using easily accessible channels such as their mobile phones.
Take the MCo-op Cash mobile app, a mobile banking product that is hosted by Co-op Bank. In the current back to school season, this easy-to-use app is allowing you to access your account balances, transfer cash to mobile phone money platforms such as MPesa and Airtel Money, withdraw cash or make payments such as fees and bills for books and uniforms for free!
Similarly, if you are out shopping and you happen to run out of cash, this Coop app has you covered as it allows you to borrow advance funds that are processed and deposited into your account instantly.
Interestingly, if you have a salary account at Co-operative Bank, you will automatically be eligible to get up advances of up to 150 per cent of your net salary. The icing on the cake is the low interest of just 1.16 per cent that the loan cost you. According to Co-op Bank, you will not be charged any facilitation fees or hidden fees for any amount of loan you take trough the MCo-op Cash.