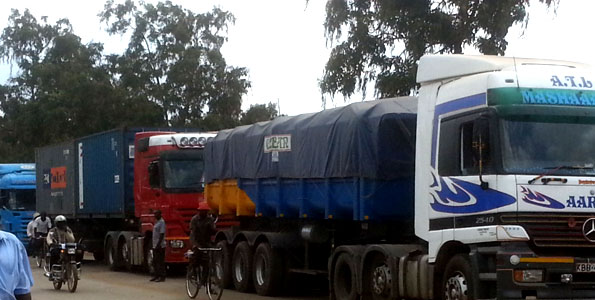 A woman in Nandi has reportedly stolen goods worth Sh. 3 million after drugging a lorry driver and his conductor who were heading to Uganda.
The truck driver Leonard Kipsang and tout Harrison Tanui found themselves in Nandi East at around 8am on Sunday, confused.
"He found his way to our station and reported the incident. Immediately we raised alarm and later received information that the vehicle was abandoned at a tea plantation with goods missing," said Nandi East DCIO Musa Khaemba. "The tout was also found somewhere else while trying to trace a nearby police station and we took them to the government hospital where heroin was noticed in their blood sample."
According to Mr Kipsang, he was driving the track from Nairobi to Uganda when a woman waved them to stop at the Southern bypass and requested for a lift which he obliged.
"She seemed to be a nice lady who appeared to be stranded late in the night, so I told her to hop in the track and we proceeded with the journey," he said.
On the way, they became bonded in a conversation when the lady offered them some canned beer as appreciation for their gesture.
Unbeknown to them, the 'stranded' woman had spiked the drinks and was on a mission — steal from them.
"I had a sip then told my conductor that I will take the rest when we reach our destination but since he was idle, he started to enjoy the drinks," he said.
He said he started to feel dizzy as they approached Nakuru town which prompted him to stop to get some rest and requested his conductor only to realise he (conductor) had already fallen asleep.
Mr Kipsang said that he fell asleep only to find himself in a strange land, Nandi East as he later came to know, confused and lost.