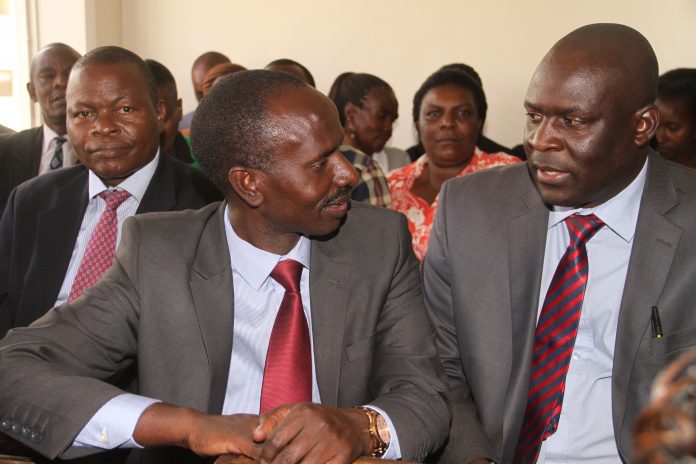 Teachers rejected a proposal by their employer to stagger payment of the Sh. 54 billion salary deal into four years.
According to a local daily, the Teachers Service Commission (TSC) proposed an annual increment, which was flatly rejected. "We insisted that because the entire CBA cycle lasts for four years, the money should be paid at once instead of the yearly increments," it was reported. The next meeting has been scheduled after two weeks.
Both Kenya National Union of Teachers (Knut) and Kenya Union of Post-Primary Education Teachers (Kuppet) officials refused to comment on the discussions even as information leaked on the failure to agree on the implementing formula.
It emerged that the past experiences when phased out CBAs were never honoured fully sparked fears among the union official, who preferred full payment. "TSC wanted that the monies each teacher will get be divided into four years and each year we get an addition. But we rejected it," said the official.
Finer details also reveal that the lower cadre job groups were not properly catered for. "Things are not good. Job groups Q to L are fair. But job groups K and below are awkwardly in place. We have rejected the implementation schedule," said a senior union official. The 300,000 teachers yesterday hoped that the Naivasha retreat would bring tangible developments to the CBA implementation.
Under the pay deal, Job groups K to G have been readjusted and named B5 to C5. Grade P1, which fell under job group G was eliminated and replaced with grade B5, which will now be the entry grade for all primary school teachers. The biggest beneficiaries of the pay deal, officials say, are primary school heads, their deputies and the secondary school principals and their deputies.
Teachers under job group J will now move to a new grade C1. Those in K will move to C2 as those in L will now be in C3. Those in M will go to C4 as N moves to C5. A higher band of grades that were previously P, Q and R have now been renamed D1, D2, and D3 in that order. Additional job groups S and T were also created and will be named D4 and D5. The chief principal will now fall under D5.