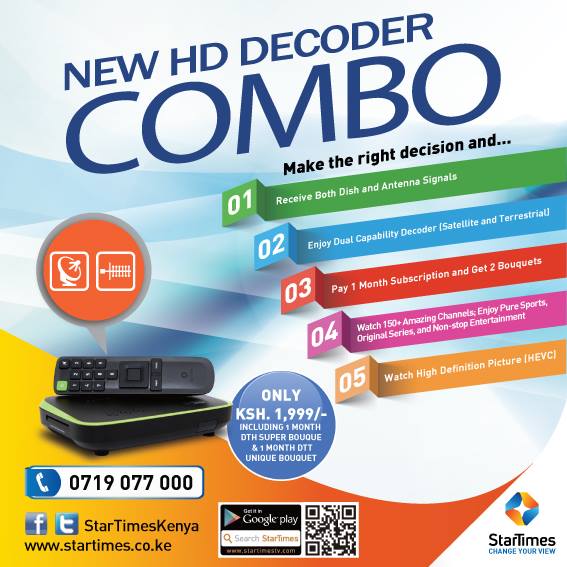 StarTimes Kenya has launched a subsidized high definition decoder in a move set to rattle the digital content market.
The pay TV provider released to the market a high definition Combo decoder. The portable device is retailing at Sh. 1,999 per set. The decoder, dubbed 2 in 1 is the first of its kind in Africa.
"The new innovative product is equipped with world's latest decoder technology to combine effectively for the first time the features of both digital terrestrial television (DTT) and digital satellite direct to home (DTH) digital television technologies on a single device," StarTimes announced.
A brief look at the device by Bizna Kenya's brand analyst reveals that the 2-in-1 combo decoder was deliberately designed with latest global technology to lavish subscribers with unprecedented access to digital television and entertainment. Additionally, this new combo decoder works well with both antenna and dish while offering premium channels on both for the price of one.
"It also grants our esteemed customers access to over 100 channels across the genres with an enhanced high definition (HD) picture quality," added StarTimes Kenya.
The entry of StarTimes into the local market and the introduction of top of the range products has been game changer in the local scene that was previously dominated by one player at a costly charge.
"What we are striving to do is ensure that we continue to offer our customers simplified products that bring top of the rank digital content closer home," StarTimes told Bizna Kenya.
By default, both the Digital DTT and DTH has comparative advantages but with combo, StarTimes subscribers will now be able to enjoy the combined strength of both. "DTT is embraced as a model for its affordability, low weather interference, portability, more local channels, easy to set up and mobile friendly while DTH is desired for its sharper and clearer images, higher number of international channels, resilience and widespread strength in remote areas," said StarTimes Kenya.