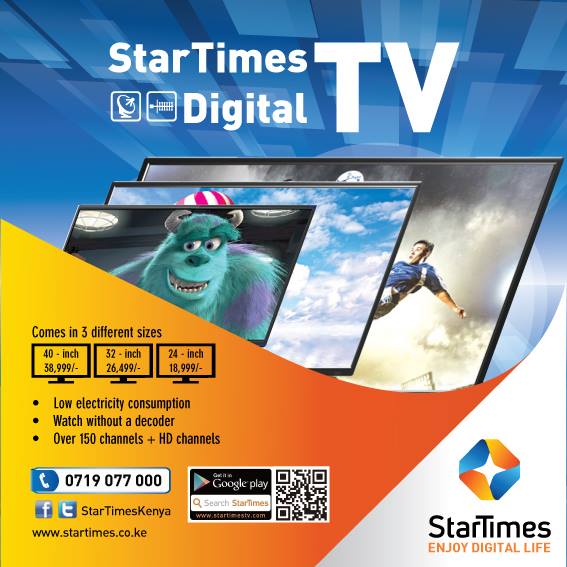 StarTimes Kenya has launched a cheap and quality digital televisions. The television sets are come as part of a set of digital products StarTimes Kenya is currently offering. Among these TVs is the 40-inch mega TV of which StarTimes has been selling a model. The key features contained in this television include:
Built-in terrestrial & Satellite Decoder
Display Size: 40 Inches
Display Resolution: HD (1080p)
Screen Technology: LED
Ultra slim Bezel
Color: Black
According to a statement from StarTimes, the new digital televisions have been designed to save on power. Additionally, once you buy the TV, you will no longer need to connect to digital content through satellite dishes or decoders. "The new digital televisions have been designed to receive both satellite and terrestrial signals without a decoder and you can access over 100 pay TV channels and free to air channels," says StarTimes.
Interestingly, it is not the reputable 40-inch television set that is available at an affordable price. According to StarTimes, the digital TVs come in three different sizes and prices. They include the 24-inch TV, the 32 inch TV and the 40-inch TV. "They are all priced at between Sh. 39,000 and Sh. 19,000.
Here's a breakdown of their prices:
40inch-38,999ksh
32inch-26,4999ksh
24inch- 18,999ksh
Advantages:
Receive both satellite and terrestrial signal without a decoder
Low electricity consumption
No need for a decoder as it has inbuilt decoder
Watch over 150 channels including selected HD channels
Customers looking to purchase the sets may call this number to be connected with a distributor or told where to pick up the TVs: 0719077077