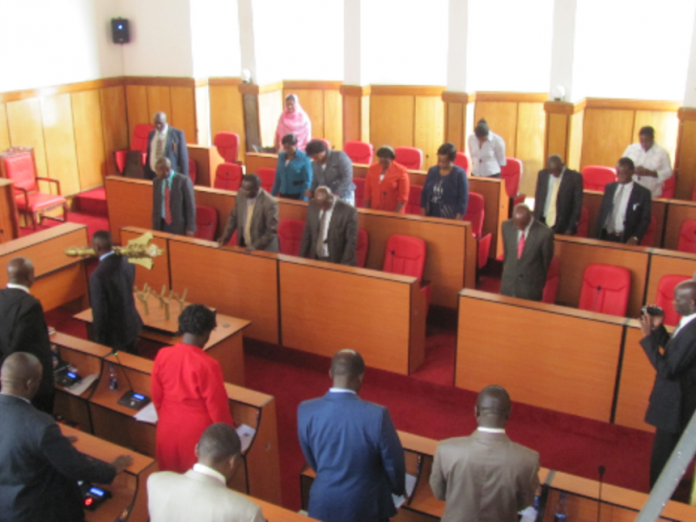 An Ethics and Anti-Corruption Commission (EACC) report shows that the Kisii County Assembly bought a thermos flask at Sh8,697 and serving tray at Sh6,490.
The EACC, in its risk assessment report for counties, says the prices are far much higher than the prevailing market prices and gives this as an example of how the counties are misusing taxpayers' money. It says this contravenes the law that requires that a market survey be conducted on the prevailing prices before a procurement contract is awarded. The report also reveals that the county assembly procured tablets for MCAs using a quotation KCA/QT/92013-2014, instead of open tendering.
The tablets were bought at Sh7.6 million, a figure the EACC says was above the procurement threshold of Sh4 million, above which open tendering should be used rather than quotations. The detailed report reveals several loopholes on the financial management for the Kisii County Executive and the Assembly arm of the government.
The Report on Corruption Risk Assessment into the Systems, Policies, Procedures and Practices was released in Kisii town on Wednesday by EACC Deputy Chief Executive Officer Michael Mubea.
The report reveals lack of asset register, with salaries of recently employed staff and casuals being processed through excel spreadsheet. It shows that all MCAs were paid maximum sitting allowances for the months of September, October and November 2015, even when some of them were said to be on maternity leave. Mubea asked all MCAs to refund all the money they had received as allowances, yet they had not attended the sittings.
The report states that payments were included in the payroll before the end of the month. The sitting allowances schedule for September 2015 was prepared, approved and forwarded to the payroll manager for inclusion in the payroll on September 16, 2015. At the time of the assessment, the report indicates that the County Assembly was operating 45 ward bank accounts for operations at the wad offices.