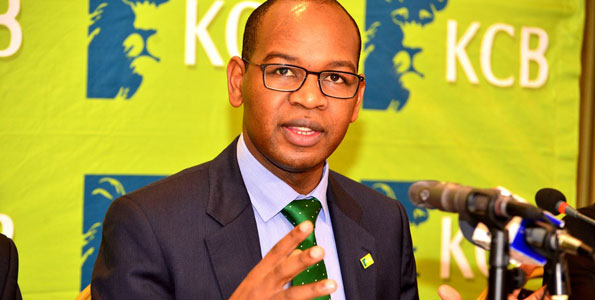 KCB has posted a a 5.03 per cent profit growth in third quarter net profit to Sh. 15.1 billion.
The bank defied a 3.6 per cent total interest income drop to Sh. 46.8 billion to post positive profit growth.
"As the business environment evolves, it is important for the group to expand its revenue streams to remain competitive. This aggressive focus on non-branch channels leveraged on our Fintech strategy is paying off," said chief executive Joshua Oigara.
Loans and advances dropped 4.39 per cent to Sh. 37.1 billion in the period as the bank adopted a cautious lending approach
Total non-interest income jumped 18.38 per cent to Sh. 17.5 billion in the period ended September 30, driven by a sharp rise in transaction fees.
Interest expense on customer deposits on the other hand dropped by 13.17 per cent to Sh. 9.9 billion, improving its margins.
Investments in government securities went up 1.92 per cent to Sh. 9.2 billion in the quarter compared to Sh. 9.1 billion in a similar period a year earlier.