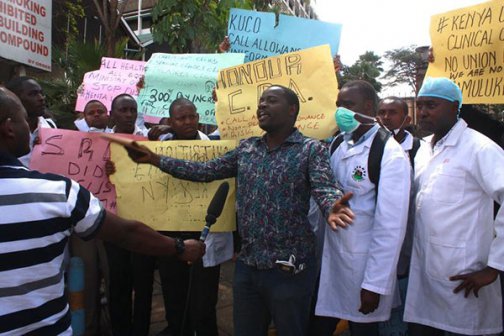 Clinical officers have given county governments a 10-day ultimatum to pay their outstanding salaries or face a strike.
The Kenya Union of Clinical Officers (Kuco) issued the strike notice to the county governments over failure to pay their salaries since July to date.
Among a host of other grievances, the clinical officers accused the devolved units of failing to pay their salaries without any explanation or apology, terming the move illogical and insensitive.
"We have given the devolved units the ultimatum which expires on September 15 before we go on strike for their failure to pay our salaries since June without an explanation or apology. Their actions and attitude on the matter are clearly illogical and insensitive to our plight," said KUCO Secretary-General George Gibore.
"We had suspended our strike after presenting our petition to the SRC and Council of Governors which promised to look into our grievances and give us a way forward but the period set out for our discussions has now elapsed," he said.
The medics alleged that their employers had reneged on an agreement to evaluate their salaries, terms and conditions of work, saying the date they had agreed with their employers had elapsed, leaving them with no alternative but to issue a strike ultimatum.
"We wish to remind the Salaries and Remuneration Commission, Ministry of Health and Council of Governors that the agreed upon timeline for rolling out our evaluation results after our appeal for clinical officers has elapsed and our suspended strike comes into effect on September 15, 2017 if this matter is not settled as we had agreed," said Mr Gibore.