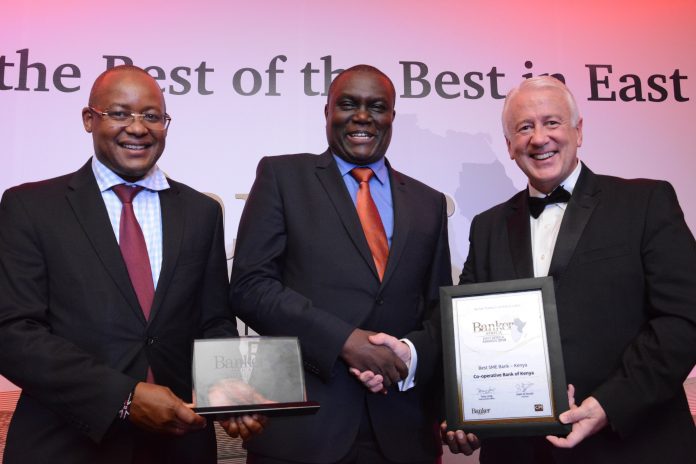 The Co-operative bank of Kenya has been named as the best SME bank in Kenya and the best retail bank in Kenya. The bank received the prestigious accolades in this year's banker Africa – East African Banking Awards. The awards, which were the fourth banking awards were held on Thursday evening at the Radisson Blue Hotel in Nairobi. In what marked a remarkable night for Co-op Bank, the bank also scooped the award for the best investment institution in Kenya.
"We have over the years worked hard to build a model that enables us to stay close to the customer, listen to their needs and glean insights on their long-term goals that we can confidently say we are offering the most competitive value proposition that SMEs and Retail clients can expect to ever get in this market," Co-op Bank's chief executive officer and Group Managing Director Gideon Muriuki said.
The winning of the awards by Co-op bank, though, was not so far-fetched. Over the recent few years, Co-op bank has been enjoying a significant presence in the small and medium enterprises and retail sectors.  It is the recognition of the unique funding needs of SMEs that the bank negotiated and secured long-term funding from international development finance institutions essentially to fund small and medium enterprises.
For example, the bank recently secured a Sh. 15.2 billion line of credit from the International finance Corporation (IFC) for on-lending to small and medium enterprises based on borrower-friendly terms. The bank has gone on to pledge that it will be extending the benefits of long term and flexible loan repayments to small businesses. "SMEs will also be able to borrow in the currency of their choice, including the US Dollars especially for SMEs engaged in international trade," says the bank. In the same vein, Co-op Bank will extend the benefits of getting the loan internationally at low interest rates to small business owners. This means that small business owners will be able to access the loans at a better price than the current pricing.
"Our practice in the SME space has served both the customers and the bank well, to wide acclaim both in Kenya and across the world," the bank said in a statement.