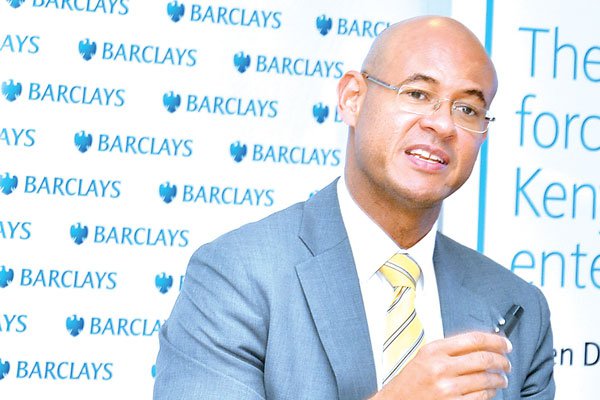 Over the years, Barclays Bank of Kenya (BBK) has remained one of the key names in the evolution of Kenya's banking sector. It has also been involved in virtually all major banking developments in the country. In its traces, the bank has soaked up some proud moments and milestones, some of which have gone on to revolutionize how banking is done in the country.
For a start, the bank has been in operation since 1916 and was the first bank to introduce Sharia compliant banking, Automated Teller Machines (ATMs) and unsecured lending services. Currently, Barclays has presence in 38 counties, with 121 branches and 229 ATMs.
Currently, Barclays is basking on a net profit growth in the first quarter of its current financial year. The bank posted a net profit of Sh. 1.8 billion, which represents a growth of 7.5 per cent compared to the Sh. 1.7 billion that the bank posted in the previous year. This gain has been nurtured by continued rise of total interest income, which increased by 8.1 per cent in the three month period. In the full year 2017, the lender recorded Sh. 6.93 billion net profit.
"By laying the right foundation, we will launch this bank firmly on the path to a successful future. The responsibility on us is therefore enormous, yet it is not insurmountable. We have a sound strategy that we are relying on to launch us firmly into our next century which will be underpinned with firm and tangible commitments to our stakeholders," says Jeremy Awori chief executive officer at Barclays Bank of Kenya. "I am confident that this strategy, which is anchored on ramping up our existing businesses while doubling our focus on SMEs, Women, Youth and Innovation, will act as a solid launch pad into the future of Barclays because we have the right tools and people to make it work."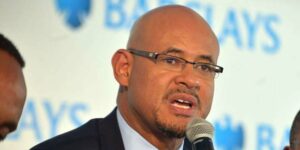 One of the major moments that Barclays has seen over the recent past is the selling of a majority stake in the Barclays Africa Group. This stake was sold by Barclays Plc to South African firm, Absa, as it sought to focus its strategy on consumer, corporate and investment banking in the United Kingdom. Barclays Plc had announced that it would be offloading a 62.3 per cent interest in Barclays Africa Group. When this announcement was made in February 2016, there were concerns on the fate of the local Barclays, with fears that perhaps the bank would be shut down or sold to its rivals. Mr. Awori, issued a statement assuring customers that BBK was here to stay. "There are no plans at a local, regional and group level to shut it down. Your accounts are and continue to be safe and are not impacted in any way," he said.
According to Nairobi-based economist Edwin Okumu, the BBK was able to cushion this mega transition due to the strength of its strategy, customer interaction and capital intensiveness. "This was an announcement volcanic enough to instigate mass withdrawals and, even the collapse of a weak lender. But in this case, the bank was solid enough that customers were able to easily distinguish it from its parent firm or the continental Barclays franchise," he says.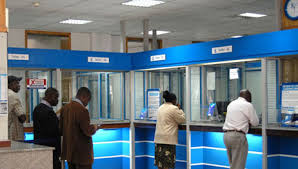 Bu this has not just been the sole strength of the bank. Over the recent past, it has launched numerous products that have made it easier for customers to carry out banking transaction easily and efficiently. In March this year, the bank also launched a new mobile loans service dubbed Timiza, increasing the competition in the lucrative micro lending segment. From this app, Kenyans can access micro loans of between Sh. 100 and Sh. 150,000 from the platform at interest rates of 1.17 per cent monthly and one-off facilitation fee of 5 per cent. The loan is repaid in 30 days. The new app is currently available to Safaricom's M-Pesa users through USSD *848# and can also be downloaded from Google Play store. "More than 50 per cent of consumers around the world want to do their bank via the mobile phone. So digital banking is not just a way of the present but the future," says Mr. Awori.
This year, too, the Barclays unveiled an Islamic trade financing product to enable its customers manage their businesses through various trade facilities that are Shariah law compliant. The La Riba trade finance is a short-term finance facility aimed at enabling trade operations for the bank's customers but in compliance with Shariah law. It is meant to cover buyers and sellers during trade cycle funding gaps for both local and international trade transactions. Today, customers are able to finance goods, plant and machinery, equipment, or any tangle items of value from a third party.
On the Nairobi Securities Exchange, the Barclays Bank stock has been trading at a huge discount. Currently, the stock is trading at an average of Sh. 11.80 per share. Over the past one year, the counter has touched a high of Sh. 13.50 per share and a low of Sh. 8.85 per share. This means that investors who take position on the counter currently will stand to gain once the bear run that has characterized the NSE over the past three years runs out of steam. For example, the NSE 20 Share Index is at a medium level of 3,273.22 points. This has been climb down from the peak of at 5,491.3 that the local bourse's main index achieved on February 27, 2015.