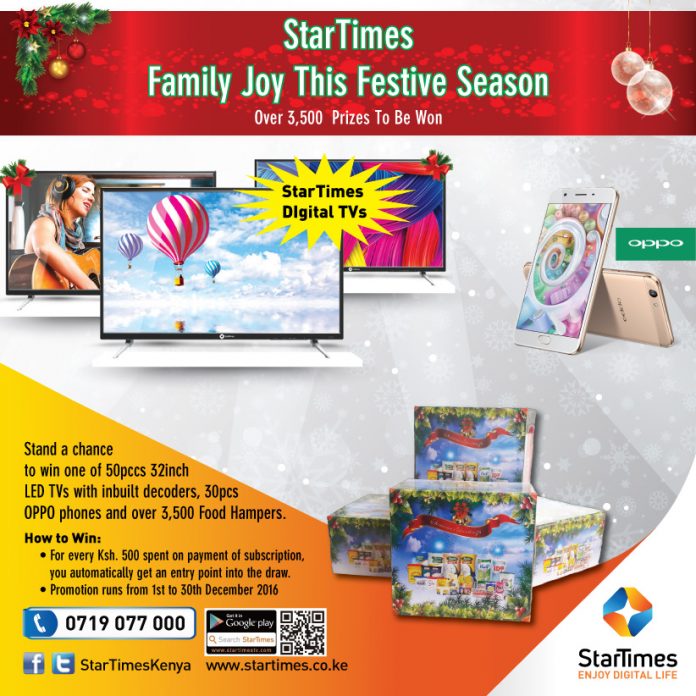 StarTimes Kenya has launched a promotion aimed at rewarding its customers and digital TV consumers in Kenya. The promotion, which will run up until December 30 this year will see customers take over 3,500 prizes!
According to a statement from StarTimes, to participate, you are only required to make top ups of Sh. 500 in the StarTimes bouquet that you have subscribed to. "For every Sh. 500 worth of subscription top up, viewers will get one entry into the main draw," said StarTimes.
"This means that the chances of winning will increase as your top up grows. It also means that the money you use to top up will be redeemed in months of added subscription as the money will go directly to your account."
During the competition, over 50 32' inch digital LED televisions will be won together with over 3,500 gift hampers and OPPO Smart phones.
Winners will be announced bi-weekly. "There will be a weekly LIVE draw on Border TV CH.364, where winners will be announced." This will happen on Tuesdays and Saturdays from 8 pm to 8.30pm. During each draw, at least 500 winners will walk away with various prices.
Interestingly, once you top up, you can check whether you are one of the lucky winners by downloading the StarTimes mobile app where all winners will be listed. Due to the many winners, we shall not announce all on TV, but the full list of winners can be accessed from our official StarTimes App. Additionally, the mobile app will enable you to stream live all of StarTimes' premium programing for free.
Below are the dates for the StarTimes Live Draw:
| | |
| --- | --- |
| LIVE DRAW | DATE |
| 1st | Tuesday, 6th December 2016 |
| 2nd | Saturday, 10th December 2016 |
| 3rd | Tuesday, 13th December 2016 |
| 4th | Saturday, 17th December 2016 |
| 5th | Tuesday, 20th December 2016 |
| 6th | Saturday, 24th December 2016 |
| 7th | Tuesday 27th December 2016 |
| 8th and Final LIVE Draw | Saturday, 31st December 2016 |