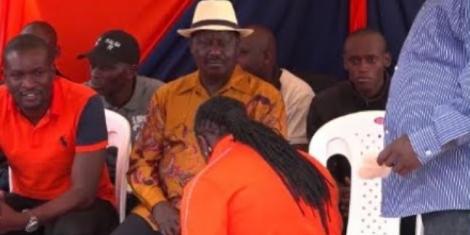 Top reggae DJ Kriss Darlin is one of the 26 Kibra seat contestants and he's hopeful that he will be on the on list nominations and sail through to parliament.
Kriss, who was born and bred in Kibra understands the challenges people in the slums face. From mentoring youths through sports activities and through his Dohty Family DJing Academy.
On Sunday while addressing the party leader Raila Odinga at Kamukunji Grounds, Kriss Darlin knelt down and uttered these words,
NIMESKIA KUNA VIJANA WENGI KULE BUNGE WANAPIGA BABA, MIMI NI KIJANA MWENZAO NA NAOMBA NIENDE NIPIGANE NA WAO UKISUBIRI 2022. WACHA WANIPIGE RISASI WAKITAKA, IWAPO HILO LITAMAANISHA UBAKI NA KUONGOZA 2022 [THERE ARE MANY YOUTFUL POLITICIANS IN PARLIAMENT WHO'RE FIGHTIN BABA (RAILA). AS THEIR AGEMATE, I WANT TO GO AND FIGHT THEM ON YOUR BEHALF AS WE WAIT FOR 2022. LET THEM SHOOT ME IF THEY FEEL LIKE THAT'S WHAT WILL MAKE YOU THE PRESIDENT COME 2022].
Kriss Darlin's action ignited mixed reactions on social media and some of the comments include;
Lulu Hassan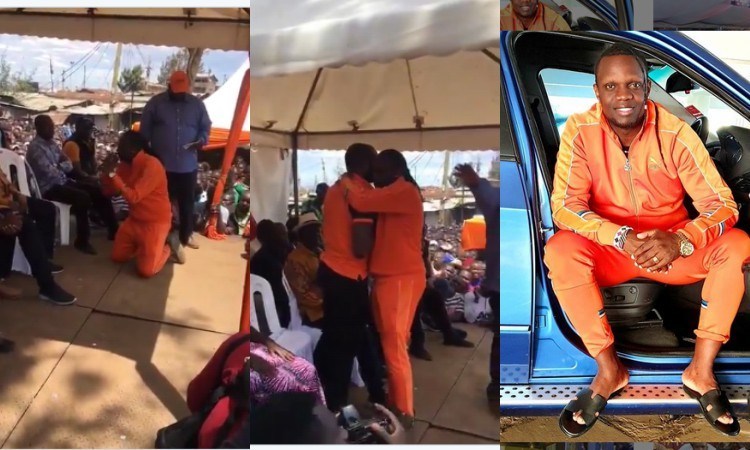 Violah Lagat God is the only Father we kneel before Him. You are lost my brother seek wisdom and knowledge from God first and you will be blessed with everything you want.
Erick Derick DJ Kriss Darlin am your biggest fan and nothing would make me happier than seeing you clinch the Kibra ticket BUT kneeling before a human being is degrading! @RailaOdinga
is not a god.
Zacky Odegi Kriss Darlin just did what has been done before, Tinga is the ODM party leader he so badly needs the ticket….if this is what it takes to get the ticket so be it.
Mas Ovo Kenyan politics though…
Brian Have no problem with Kris darling being Kibra MP at least he was brave enough to show his intentions trolling him won't help at this moment, we need to grill him for the position
Eva Karimi Kriss darling, this was a let down, how could you do this in Kibra??? Kneel before our former Prime minister Raila Odinga???? Sad.
Fidelfidz He will make it through…… This guy is well known in Kibra
Mega Dun its just a sign of respect, why make a big deal out of it by including irrelevant things on it others like you can't worship a human being etc,Kneeling doesn't only happen when you worship, its also a sign of honour and if you can't do it, others can, and that's why some of us here have been losing many opportunities out there, simply because of your pride, humility at times will make you go a long way, Like for now, I'm sure baba will find it so difficult not to consider him especially after such a gesture, he may miss the Kibera MP chance but I'm sure they'll consider him elsewhere, Humility pays. Don't be dramatic
Murimi Baba Melvin Kneel before God and stand before any man, may God have mercy on him and show him the way if deep in his heart he means well for the Kibra people. May God fill the Kibra people with wisdom and courage to pick the right candidate.
An old photo of the disc jockey posing with President Uhuru Kenyatta and DP William Ruto has surfaced.
Many are using the photo to slander Kriss Darlin's name and his ardent fans have defended him. The photo was taken when Kriss was emceeing a Jubilee event. It was work-related.
Monfa Bdx @Asamoh He was an Mc here, don't show how small your head is.
When baba chooses him, it's him- that's how blind we are.
Walter Lakini wakenya MNA chuki…hivi ata instead ya kuinua mmoja wenu yaani tu mnamuanika..ako kazi hapa lazima atafutie familia jameni
Andre He was just MC_ing. Doesn't necessarily mean he picked a side.
Collins Owuor But saa hii hata Raila ni wa jubilee. Mumkubali tuu
Wizzdom There's no problem with that, he was just an MC. Politicians change parties all the time, contest and win.
Holikev Man's just securing a bag…all of those guys were once in ODM.
The Kibra was recently declared vacant by speaker Muturi after the MP Ken Okoth passed away in July.