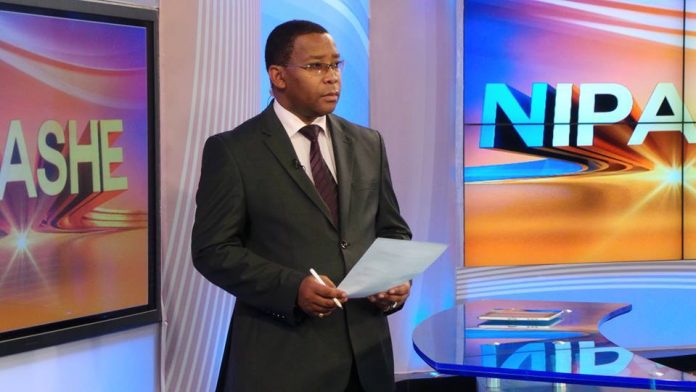 In a shocking financial revelation, popular Citizen TV presenter Swaleh Mdoe has put up his kidney for sale.
Mdoe reportedly decided to sell one of his kidneys to in order to sort out what he termed as pressing financial issues.
In an interview with a local entertainment news pullout, Mdoe said: ""I would even be placing a newspaper advert if that is what it takes to get a worthy client," he says. "I have decided to sell one of my kidneys after consulting my doctor on the matter."
To show the seriousness of the matter, Mdoe even shared his mobile number which 0722733130, saying, "I need to do this urgently."
"I'm broke and that is a fact of life," Mdoe, who is Royal Media Services Managing Editor for Kiswahili, said this morning, speaking to the Star. "I have pressing financial issues that need to be resolved and the bank cannot top up and help me."
This is a turn in fortune for one of the most decorated journalists in Kenya who are reputed for earning massive salaries.
It was nonetheless not clear how far the financial problems stretch for Mdoe.
Swaleh Mdoe joined Citizen TV afew years ago after rising to fame as one of the finest Kiswahili news anchors in the country. He is popularly known for his 'Tafakari ya Babu' series which he started while presenting for KTN in the early 2000s.
This latest revelation is in sharp contrast with the presenter's discreetness over his personal life.
It also goes out to show the difficulties some of the leading public figures in the country face contrary to the popular belief that theirs is a free-style, money-loaded lifestyle.
Ironically, Mdoe's decision to part with his kidney for money comes against an employer who is reputed for providing high salaries to her employees. It is also not clear if Mdoe had sort the assistance of his employer before resulting to this drastic measure.
However, over the recent past, Kenyan media has made a name for its ruthless treatment of employees. This has become more manifest in the on-going sackings and retrenchments that many in the industry have said lacks merit or credit.