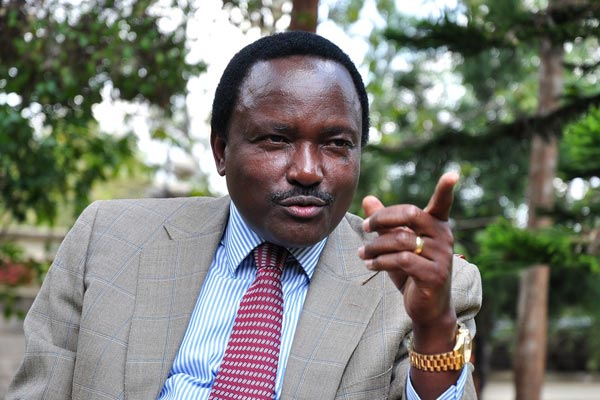 Who between Wiper leader Kalonzo Musyoka and Mombasa Governor Hassan Joho is more politically substantial for Cord is a no-brainer.
At the end of the day, numbers are what matter, not razzmatazz. There is trouble in Paradise and, if somebody is not careful, they may lose the numbers chasing the money.
Wiper has not been shy in stating that they have options. In fact they have less to lose in activating those options than their other partners in Cord. In all probability Kalonzo's allies may be speaking the truth that Jubilee is not on their radar.
This, however, is unlikely to deter Jubilee. Its outreach to Ukambani will intensify even if Kalonzo the prize eludes them. A clutch of Wiper MPs led by Mwingi Central MP Joe Mutambo are already in the bag. Plus there are like-minded others like Machakos Governor Alfred Mutua who will likely play ball.
Wiper is mistakenly underrated when it comes to its spread. Joho is basically a Mombasa city politician. It pays to remember that the Kamba are the largest "upcountry" ethnic group settled at the coast. Outside their core counties of Machakos, Makueni and Kitui, their numbers are big in Taveta, Kwale's Shimba Hills and in Mombasa itself.
Kwale Governor Salim Mvurya, who is a Duruma, is reaching out to the Kamba vote to counter the Digo, who oppose his recent defection to Jubilee. In Mombasa, an alliance between the Kamba and the Mijikenda would leave Joho in very, very serious trouble.
It is difficult to see an alternative to Kalonzo for Cord. Ideally Charity Ngilu could fit the bill, but she doesn't quite make the mark. Farther afield, Bomet Governor Isaac Rutto of Chama Cha Mashinani and Kanu's Senator Gideon Moi have other fish to fry. Their priority is to challenge Jubilee in URP strongholds of Rift Valley. Truth be told, they are not interested in joining Cord. Those with ears to hear have heard them state so repeatedly and emphatically. Tellingly, both have said they are confining their anti-Jubilee challenge to county assembly, parliamentary and gubernatorial seats.
Musalia Mudavadi is a far more attractive prospect for Cord. His utility would be in consolidating the Mulembe regional vote and upstaging Ford-Kenya's Moses Wetang'ula in the process. However, the territory where his strength lies has nothing in common with Kalonzo's. Moreover, Mudavadi wants to keep his distance from the two big coalitions and resolutely talks of running for president under his own party Amani.
At bottom, politics is a game of circumstance. It took Daniel arap Moi to unite the Opposition by naming Uhuru Kenyatta as his designated successor. There will be repercussions too within Cord in the unlikely event the group settles on Kalonzo as its joint candidate, or Wetang'ula for that matter. Even the hint that Raila Odinga will run away with the ball will bring a fallout, as is beginning to happen now.
It is curious that ODM has been the most eager to seek to paper over these emerging divisions. The promise of a "fair" nomination of Cord's unity candidate will not resolve much. From past experience, all that talk is just hot air. Sometimes we hear of "foreign experts" working on some "plan". It turns out these are imaginary. Fact is, a nomination process that goes to a direct vote is not only logistically unfeasible, it is certain to provoke far bitter complaints than we are seeing now. Perhaps consensus?
Cord was formed in reaction to the naming of the Jubilee coalition shortly before the last election. Assuming it holds in spite of the current ups and downs it is undergoing, the key will be in finding a formula where the rank and file of the constituent parties are persuaded to get less invested in those individual outfits. The easy answer is to merge them into a single party. Trouble is, none of the constituent parties is keen.
The other option is to shop for a presidential candidate outside the constituent parties who all trust. This might lessen the internal backbiting. But none of the aspirants will hear of it.
Kalonzo is playing a canny hand in brinkmanship. Basically, he is assessing where his nest would be best feathered post-election. He certainly will not leave Cord if he calculates the coalition stands to win the next election. But if he concludes otherwise, chances are he will look elsewhere.
The following opinion feature by Gitau Warigi was first published in the Sunday Nation.