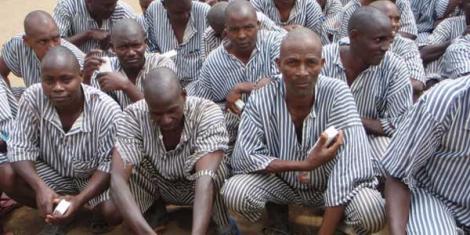 The sun rose over the Eldoret GK Prison on the morning of Friday 14, February 2020. The day may have been no different from the others but a certain Alfred Omondi has given the inmates a reason to celebrate.
A report on Friday, February 14, 2020, showed happy faces of inmates who were given special attention on Valentine's Day.
Alfred Omondi was the reason for the change in the status quo. He could be described as one who prefers not to show his right hand what his left hand had since he donated a host of items to the prison that houses approximately 1,800 inmates.
Among the things that the prisoners were gifted included 1,000 blankets and 1,000 mattresses. Omondi also committed to paying pending fines for 120 prisoners which could see many of them released.
The 120 who will benefit from Omondi's offer are inmates on the hook for small fines ranging between Ksh 5,000 and Ksh 10,000. These sums are usually levied for petty offences such as misdemeanours.
The inmates were also visited by members of Eldoret Creatives who chose to spend the day of love sharing with them.
MC Nick, from Eldoret Creatives, highlighted that they had come to the prison to spend the day with their brothers.
"We are here to spread love. We want to show them that we have love as Eldoret Creatives. We find that our brothers in prison are usually forgotten. It is good to come to see our brothers who are here. They are also human," he spoke at the event.
George Otieno, an inmate, also expressed his happiness at the festivities and generosity that coloured the prison.
"We are very happy that such celebrations are happening in our prison so we know that we are also remembered on this day," he told reporters.
The move by Alfred Omondi would grant a reprieve for petty offenders who are serving time for minor offences but could not afford the fines levied.
A report released by the International Commission of Jurists Kenya found that 28, 768 charges that were prosecuted in Kenyan Courts between 2013 and 2014 were petty offences.
These findings were echoed at The Annual Criminal Justice Conference on May 21, 2019, where it was stated that seven out of 10 inmates are petty offenders.
Petty offences include misdemeanours such as loitering, causing a disturbance or being drunk and disorderly. Misdemeanours, as per the Penal Code, attract a prison sentence not exceeding 2 years, a fine or both.
The executive director of Network of African National Human Rights Institutions (NANHRI) Gilbert Sebihogo speaking on the problem of petty offences argued that they were biased against the poor.
"Laws that criminalize petty offences subject millions to languish in dilapidated detention centres which have an adverse socio-economic impact and health consequences on detainees and their families."