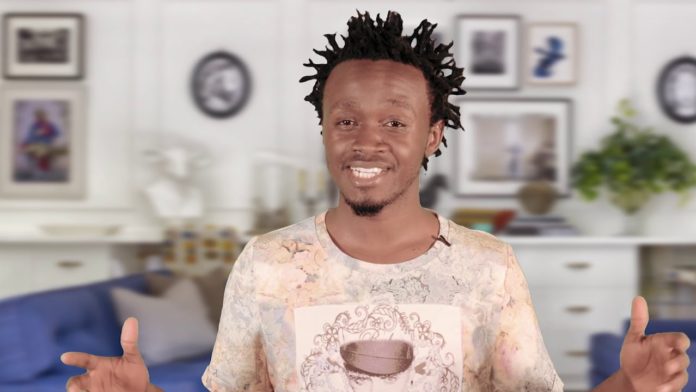 Nation FM presenter, Cate Rira, could not hold back her thoughts on controversial gospel musician, Kevin Kioko's (Bahati) new trajectory in the music industry.
Rira, during her morning show on Wednesday, February 12, called out Bahati, opining that he was promoting mediocrity in the music industry after he featured in a controversial song with secular Gengetone artists Boondocks Gang.
The song, Taniua (you will kill me), was shot in a church and depicted Bahati as a priest offering answers to the secular artists. Its lyrics have been spiced up with proverbial sheng phrases.
Rira played the song on air before cutting it off to rant out at Bahati.
"Listen, people. Bahati first of all, to me, this is a bunch of nonsense and that's the truth. If you feel hurt, take up the issue with someone else. I want to tell people in our industry that this and I say it with so much passion is the reason why our industry will never grow. We have allowed mediocrity to surface. This is mediocrity.
"I have no problem with Gengetone. I don't. It is good. In fact, I love it. I dance to the music. But while you can't use effort to bring out something or even speak the real gospel is pure backwardness," Rira lashed out.
The radio host further urged her fellow presenters to desist from promoting such content, asserting that they were also part of the problem which was killing the music industry.
"Now let me tell you where we presenters go wrong and I will call out some names. We argue that because the song is trending we have to play it. Other industries don't allow mediocrity yet for us, we think it is okay.
"I know Mambo Mseto under Willy M Tuva will promote it, Jalang'o (Felix Odiwour) will promote it too and by the way, shame on you for doing that. You are the reason as to why our industry will not grow," Rira lashed out.
The radio host further dared Bahati to honor an interview with her on the controversial song to respond to her criticism.
"If something is mediocre, stop elevating it. I want to call Bahati for an interview here so that he can explain to me why he is releasing such content he thinks that it's good to broadcast. For producers, why are you allowing mediocrity? Let us not allow this," Rira retorted.
Replying to her post, celebrated KTN presenter, Fredrick Ngatia, popularly known as DJ Krowbar, lauded Rira for her decision to face off with Bahati.
"Such music goes on air cause of influence, its work, lack of social responsibility and the producer is actually Bahati. He pays his beatmaker to follow his instructions. Since the young lad needs income, he is subdued into compliance. Lots of respect for you Cate," Krowbar stated.
Bahati hangs up the phone when he was contacted to comment on the fan's reaction to his new song.
On his Instagram page, his fans also voiced out their disappointment arguing that he had lost his respect for the Gospel and that he was following in the footsteps of fellow controversial gospel artist Willy Paul, who has been producing secular music with videos described as raunchy.
"Please do secular in peace without involving and dirtying the church. You even got the guts to make fun of the Lord's Prayer on the cross. I won't judge but these are the end times. Stay awake. God is never to be mocked," Lynn Posha replied.
Bahati has also been under much criticism from his fans who have urged NTV to withdraw his reality showed dubbed Being Bahati, alleging that parts of the show were stage-managed. The fans argued that some fights were unrealistic and did not affect the couple (Bahati and wife Diana Marua). Some opined that Bahati depicted himself as a kind person helping the needy.
VIDEOS: Instagram/YouTube
,