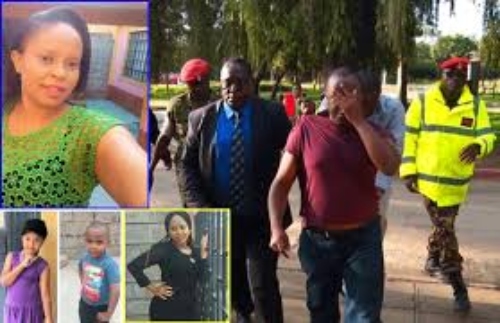 Three bodies were found buried in a shallow grave within Thingithu Estate in Nanyuki, after the arrest of Major Peter Mugure on Saturday, November 16, 2019.
The bodies are believed to be of his estranged wife Joyce Syombua, her two children Shanice Maua and Prince Michael who went missing on October 26, 2019.
Citizen TV reported that the discovery was made after a suspect leads the police to where the bodies were buried.
In a report featured on Citizen TV's prime time news on Tuesday, November 12, Joyce Syombua and her two children, Shanice Maua (10) and Prince Michael (5) are believed to have gone missing on October 26, 2019.
The three had visited Major Peter Mugure, father to the two children and estranged husband to Syombua at Nanyuki Barracks the previous day.
Citizen TV reported that the police discovered the body of the two children was discovered stacked atop their mother's in a shallow grave.
The case was brought into focus when Syombua's mother Elizabeth Maua went to Soweto Police Station to report that her daughter was missing, and her friend, identified as Farizana made the same reports at Nanyuki Police station.
Police investigations launched immediately after and discovered Syombua's phone a day later inside a 4NTE matatu.