Over 70 lawmakers allied to President Uhuru Kenyatta and ODM leader Raila Odinga have called on Deputy President William Ruto to resign.
In a press conference, the MPs from various parties accused the DP of misconduct and violation of the oath of office.
"The deputy president is definitely guilty of public misconduct and grave malpractices and has not lived up to the oath of office that he subscribed before assuming office.
http://Tuju and his family now face bankruptcy charges
"He has not brought honour to the nation and dignity to the office of the deputy president and has failed to promote public confidence in the integrity of the high office. He would rather rule Kenya than serve the people," read part of their statement.
Image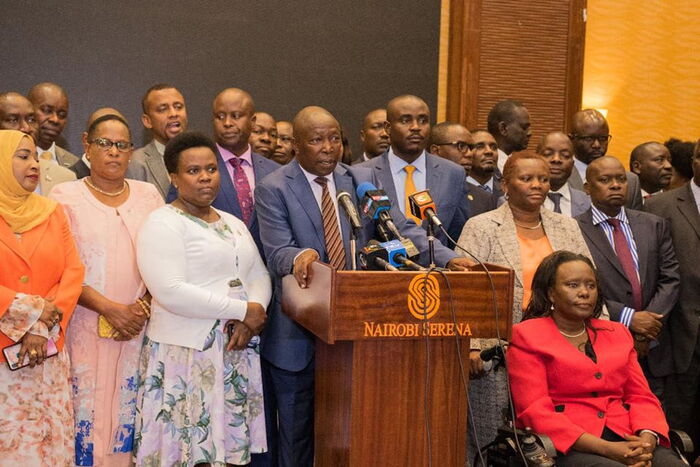 Legislators at the Serena Hotel demanding for the resignation of Deputy President William Ruto on Wednesday, March 11
FACEBOOK
"He has not offered selfless service based solely on the public interest. He is not honest and his personal interests are in constant conflict with his duties," the statement further read.
Additionally, the MPs called on the deputy president to change his behaviour or risk being impeached.
"With this state of affairs, Ruto must shape up or ship out. He needs time and undivided attention to pursue the only thing and ambition that makes sense and that has meaning in his life- dream and campaign for the 2022 presidential elections," the statement read.
The MPs stated that Ruto was in open war with the head of state, noting his recent remarks during the burial of the late officer Seargent Kenei that the system has been mobilised to bring him down.
I Lost Everything I Had Worked For, 82yr Old Man After Half Decade Away
"In recent attacks, he has not spared the head of state either, with a crude and sinister reference to the purported existence of the deep state.
"These attacks have now peaked with the creation of the team, directly loyal to William Ruto, within the ruling party, with the objectivity of insidiously eroding the prestige and honour of the president of the republic and the leader of his party and to fight the government from within. This is unacceptable and ultimately renders the government dysfunctional and divided," read the statement.
Other legislators present at the press conference include; Ayub Savula, Kanini Kega, Godfrey Osotsi, Fatuma Gedi, James Orengo, James Nyikal, John Mbadi, Millie Odhiambo, Ephraim Maina, Otiende Amollo and Gladys Wanga among others.