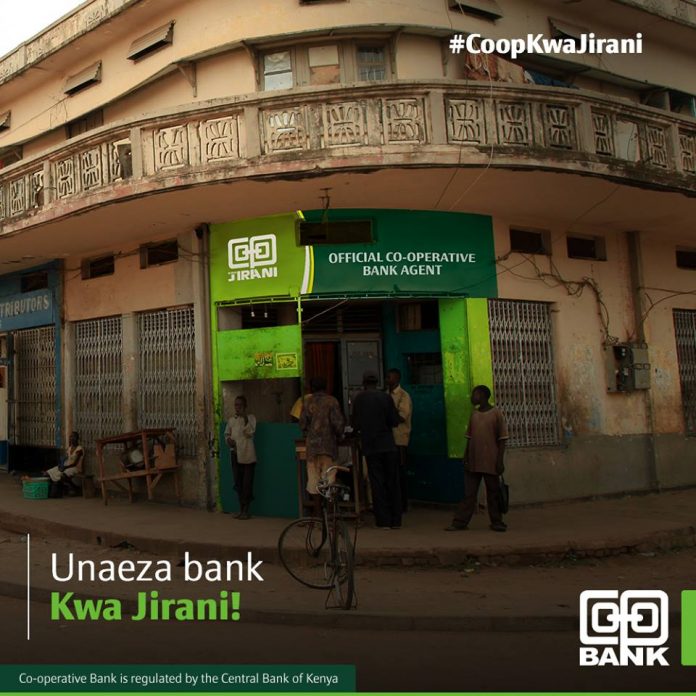 Although saving an take many forms including investments, beginners in saving will often prefer to save their cash through banks.
While there are those who will walk straight into a bank and make a heavy deposit, many customers in the small and medium sector have difficulty depositing their savings.
This is because many think that their money is too small to save. As a result they either hide it under the pillow or give it out in their merry-go-round chama.
In the same vein, many small savers fear that after saving, it might e awkward to walk in the seemingly 'corporate' banking hall and ask to withdraw their little savings.
Take Miriam Atieno, who runs a vegetables stall in Nyahururu market. "I would wish to e saving my Sh. 100 per day profit. But I fear that I might be looked down upon if I take it to the traditional bank" she says.
Atieno and many other small sale savers sailing in the same boat no longer have to worry. This is because over the past six years, the Co-operative Bank has been offering deposit and withdrawal services right at the small savers' corner.
The bank currently has a network of over 8,500 banking agents situated across the country in markets, shopping centres, village centres and towns.
Each and every one of these agents which are popularly known as Co-op Kwa Jirani, have the capability to run normal banking services that are usually carried inside the traditional banking hall.
This is what Lizzie Adhiambo, a fish vendor in Nakuru discovered. "I previously felt shy of making deposits of Sh. 00 or Sh. 200. However, after discovering the efficiency and convenience of the Co-op Kwa Jirani ageny banking I have not looked behind" she says. "If I reach my target while vending my commodity in the streets all I do is walk to the next Co-op Kwa Jirani agent and tell them 'wekea mimi hiyo mia'."
Co-op Bank doesn't currently charge you to make any deposits. In fact you can make as many deposits in a day as you can. Interestingly, whatever amount you deposit through Co-op Kwa Jirani will reflect on your account.