Parents are now raising concerns about the early resumption of learning before January 2021 citing a number of reasons, key among them being safety.
This comes after primary and secondary school candidates were reported to be likely to return to school in October as per the latest proposal to salvage the academic year.
Education Cabinet Secretary Professor George Magoha on Monday stated that a larger stakeholders' meeting before September 25, 2020, would be held where a date for the reopening of schools would be announced.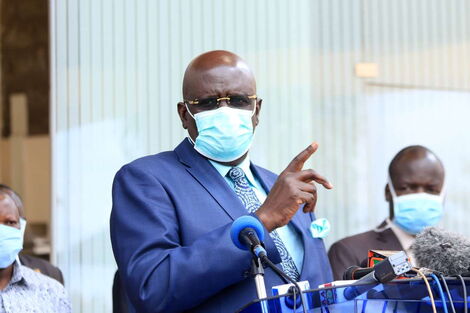 Education CS George Magoha addresses the media at the Kenya Institute of Curriculum Education (KICD), Nairobi on Friday, May 29, 2020.
Speaking, National Parents Association Chairman Nicholas Maiyo revealed the concerns of parents.
"We presented our views and we said we will be ready to reopen schools when the curve has flattened and the preparedness of schools.
"The concerns I'm receiving now however is that parents went through a lot of constraints due to the pandemic and they are now not stable," he noted.
Parents argued that they were not ready to take their children back to school before January 2021.
"What has the Ministry of Education done to schools in readiness? In fact, if we don't do anything at the moment, it might still be difficult to open in January. Between now and January, let the Education ministry prepare professionally," noted one Robert Bukokhe.
"What's the rush with reopening schools? Instead of wasting time on media saying this and that all the time, he should be spending that time making sure schools are prepared for January," explained Monica Nyambura.
A section of parents also noted that they had already been in a tough financial situation which was worsened further by the Covid-19 pandemic.
"I don't understand why we should pay school fees for a month or two then again pay school fees for the entire year next year, for the same class! For me it is a waste of resources," pleaded Shiela Amani.
"Unless he pays the fees, how can a jobless parent pay school fees for two months and again pay the same fee in January and the whole year for the same class," added one Ismail Mageria.
Back in July, Magoha directed primary and secondary schools to refund second and third-term school fees to the parents who had already paid, or transfer fees to January 2021 when schools were scheduled to reopen.
Parents also blasted Magoha for what they described as his lack of clear communication on school resumption after previously indicating that schools could reopen soon, changing tune on his earlier stand of January 2021.
"This is a wasted year, Magoha is just a confused fellow. I as a parent do not support the reopening of schools this year. We are set as parents for next year," said Isakalu Bin.
Some parents were, however, ready to take their children back to school citing that prolonged stay without learning with have undesirable effects.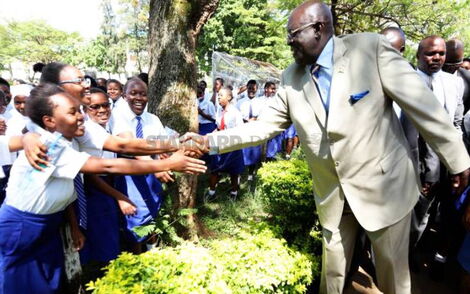 CS George Magoha shaking hands with candidates of Kisumu Girls High School on November 5, 2019.