Outspoken TV host Willis Raburu on Monday, January 18, stunned his audience after he abruptly left the set during a live Citizen TV morning show, Sporty Monday.
In a later statement, Raburu disclosed that he was forced to leave the set after he developed health complications.
Raburu was hosting the show alongside media personalities Tijan Swila and Steve Shitera, with Swila having to step in to complete the show.
"So sorry had to unceremoniously disappear from TV this morning on Day Break. I fell ill mid-show and had to leave. I'll be okay.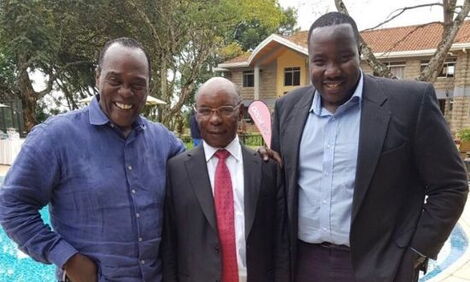 From left to right: Citizen TV journalist Jeff Koinange, Royal Media Services owner SK Macharia and Citizen TV presenter Willis Raburu pictured on December 31, 2018.
"Thanks to Tijan Swila and Steve Shitera for holding it down for me. Off to get some treatment," stated Raburu.
A source from Citizen TV confirmed that the journalist had been taken to the hospital and was receiving treatment.
"I understand he went to hospital, but he should be fine. I hope, it's not something major, but he is being checked up," the source from Citizen TV confirmed.
The three journalists were discussing sports, including the recent transfer of Kenyan football star Michael Olunga's transfer to the Al Duhail club in Qatar as well as the upcoming Tokyo Olympics when the incident happened.
Sources indicate that Raburu showed up to the show, but only left the set during a commercial break when he learned that he couldn't continue, with the show left to continue with only two panelists.
His supporters wished him a quick recovery
"I wondered where the Ras Bazzu disappeared to… You'll be fine brother. Trust in God," stated Davey Stepper.
"You had started the show well. Get well soon," added another fan.
In 2016, Raburu dislocated his knee during a Power Breakfast Show, while working out during a fitness segment.
"So yesterday I dislocated my knee cap, that was a new level of pain…If it wasn't for my workmates and friends though I don't think I would have made it thru the day," He wrote at the time.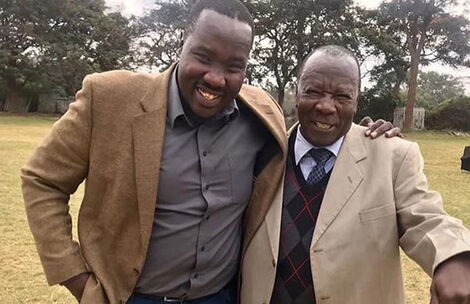 File image of Willis Raburu with his father Peter Raburu