Lancet Kenya has announced they are now offering a Ksh 13,000 drive-through Coronavirus test in three of their outlets countrywide.
The three outlets include Upper Hill and Parklands branches both in Nairobi and in Mombasa at their main branch in Biashara Building along Digo Road.
The tests are done by trained lab personnel when the patient is in the car to avoid exposing people to the risk of Coronavirus.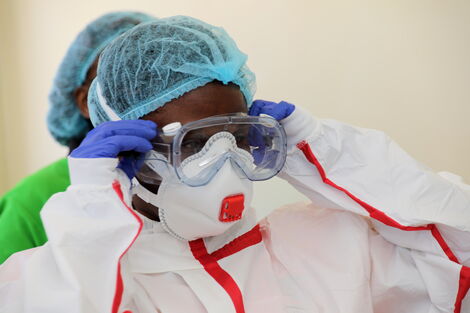 A medical practitioner dressed in protective gear at the Coronavirus isolation and treatment facility in Mbagathi District Hospital on Friday, March 6, 2020.
Lancet Kenya Client Relations Officer Skovia Owino confirmed that the organization is able to conduct tests, "We are offering Coronavirus testing, however, we are only seeing referral patients so one should see a doctor first."
"If the doctor deems it fit that we can do the tests, then they'll send you here with a referral. The tests cost Ksh 13, 349," she explained.
The tests can be taken through two types of swabs- nasopharyngeal swab (a swab collected through the nose) and/ or an oropharyngeal swab (a deep throat swab collected through the mouth).
A swab test will take 3-6 days to process the results but that is subject to the workload at their facilities.
Some results might take longer if the facilities have cases with a patient with high risk, including the elderly.
The tests are then sent to South Africa but Lancet East Africa CEO Dr Ahmed Kalebi, in a Twitter post, however, said the firm is in the process of setting a testing mechanism at the Nairobi main lab, which cuts the cost considerably.
"We are at an advanced stage of setting up the test in our main lab in Nairobi — just waiting for the kits to arrive anytime end of this week, and will be rolling out local testing with the capacity to scale-up. When we start local testing, the cost will come down by almost half.
"Initially (2 weeks ago), the cost for Covid-19 PCR test sent to our reference lab in South Africa was Ksh 17,000, then last week that came down to Ksh 13,000 for individual patients' request while hospital clients get a discount."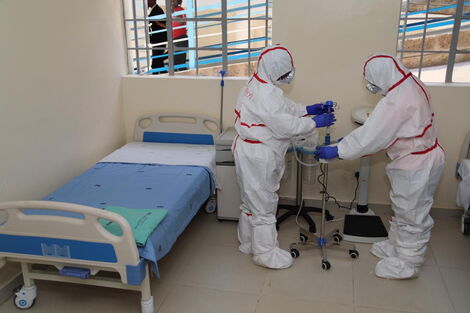 Medical practitioners at a Coronavirus isolation and treatment facility in Mbagathi District Hospital on Friday, March 6, 2020.