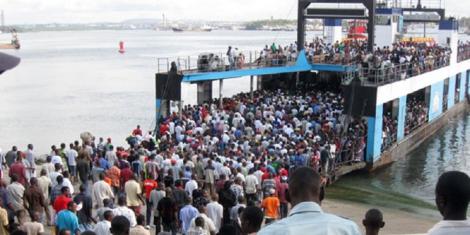 Limiting the number of people boarding ferries at any given time at the Likoni crossing is among the tough measures Kenya Ferry Services (KFS) must implement in the fight against Covid-19.
Coast Regional Commissioner John Elungata yesterday reiterated the need to step up efforts at the channel that connects Mombasa Island to the mainland.
Mr. Elungata directed the management of KFS to work closely with health authorities to ensure the safety of staff and passengers by enhancing and ensuring hygiene.
KFS has installed hand washing facilities on both sides of the channel to prevent the virus' spread. Elungata urged ferry users to play their part in preventing the spread of the virus by supporting the safeguards being taken.
"We are monitoring the situation closely and have identified the ferry crossing as a possible flash-point of the pandemic," Elungata said while on a tour of the channel on Monday.
He said more police officers will also be deployed at the channel to help in the enforcement of the new safety measures, including crowd control.
"We ask for public support as this is not a permanent state but a temporary move to save lives as coronavirus continues to spread around the world," he said.
The administrator noted that the restrictions were temporary measures to protect ferry passengers.
"As cases of coronavirus continue to rise globally, we have no option but to take strict measures to minimize the risk of spread," he said.
Elungata said the restrictions on the number of passengers were in line with government order on social distancing.
"The ferries are usually packed to capacity and avoiding close contact becomes a near impossibility and that is why we are cutting down the number of passengers per trip," he said.
This came as Kilifi County Government announced closure of several companies over the pandemic.
All members of the county cabinet in Kilifi, including Governor Amason Kingi, are under quarantine. Mr Kingi, who has tested negative for the virus, went into quarantine for 14 days after coming into contact with his deputy Gideon Saburi, who is infected.
Saburi returned from a trip in Berlin, Germany on March 3, but did not isolate despite being urged to do so.
Others who have gone into quarantine after interacting with Saburi are Lands CAS Gideon Mung'aro and Kilifi North MP Owen Mbaya.
Mr Saburi has been admitted to Mbagathi Hospital. Health CS Mutahi Kagwa has said the deputy governor will be charged, in line with provisions of the Public Health Act, for failing to self-quarantine when he arrived from the corona-stricken Germany and continued interacting with people.
Reports indicate that about 100 county officials are in self-isolation after interacting with Saburi.
Firms that have been closed include all export processing zones, Mombasa Cement factory, Mabati Rolling Mills and all salt processing firms. Sand harvesting, coral block cutting, ballast and manganese quarries have also been banned.
A notice by County Secretary Mkare Jefwa yesterday said the closures would be immediate. "Several cases have been confirmed in Kenya. It is especially risky to be in congested places. We must, therefore, continue taking measures, however unfavourable they may be, to curb the spread of the virus," said Mr Jefwa.