Education CS George Magoha has blamed parents for the recent indiscipline cases in schools, where several students countrywide were arrested for attacking teachers and colleagues in separate incidents.
The CS accused guardians of tolerating uncouth behavior in their children and for also failing to nurture them well.
"There is something called tough love. Our current parents don't give even one percent of tough love. They give stupid love. My father prepared me to be able to live and become CS to get all the pressure and arrows from you (critics) so that I don't fail.
Education CS Prof George Magoha assesses the resumption of learning at Muchonoke Secondary School in Embu County on Friday, January 15, 2021
"Currently, our parents are not listening. It's a societal problem. How are you treating your children? We nurture them as eggs and force them on principals in schools. What do you think is going to happen?," Magoha lamented.
He gave an example of how he was treating his own son, Dr. Michael Magoha, saying that he did not enjoy the preferential treatment as accustomed to other privileged children. He added that the boy went to school by bus despite the CS owning several cars.
Magoha further banned students from carrying personal sanitizers and warned that it was a recipe for disaster.
He said that some students have been using alcohol-based sanitizers to start fires in schools.
The CS directed teachers to confiscate the sanitizers and return them to students when they travel back home after classes.
"I want to tell teachers that they must not allow small-bottle sanitizers into schools.
"If any child has portable sanitizer, it should be taken and kept and given when the child is leaving school. We have already seen that a fire was started using a sanitizer in one of the schools," he stated.
In early January 2021, he directed that schools would only receive about five liters of sanitizers which will be handled by teachers only.
While speaking after the stakeholders meeting, the former UoN Vice-Chancellor also disclosed that as of January 20,  99.9 percent of all learners were back to school, 12 Counties had already received 100 percent of the desks, and that 86 percent of suppliers had already been paid their dues and arrears.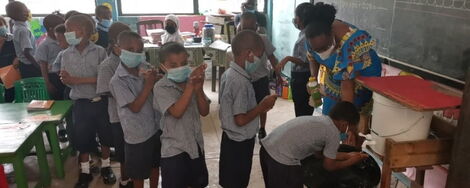 Pupils wash hands at the Aga Khan Primary School in Mvita Sub County, Mombasa County