Media outlets in Mogadishu have reported the death of at least seven Kenya Defence Forces (KDF) soldiers who were killed in a bomb attack in southern Somalia.
A report by Garowe Online, a Somalian media outlet, indicated that the Tuesday, January 12, incident occurred after the KDF vehicle drove over an improvised explosive device (IED).
The incident occurred between Dhobley and Hosingow and is said to be the second attack on KDF in the Lower Juba region within 24 hours.
Residents told the outlets that the trucks were heavily damaged in the incident.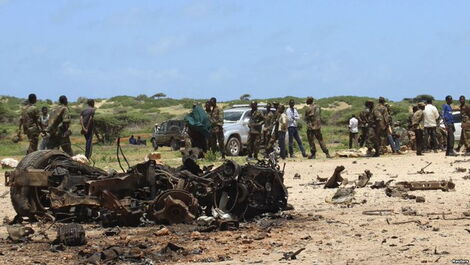 KDF officers at the scene of the incident in Somalia
It is not clear who the perpetrators of the incident were since no group, including al Shabaab, had claimed responsibility.
Kenyan security forces are on high alert as the anniversary of the El Adde attack nears. The Somali terror group has often planned attacks to coincide with January 15th when the worst attack on Kenyan soldiers was carried out.
The attack left at least 147 soldiers dead.
In 2019, al Shabaab marked the El Adde attack with another on the Dusit Hotel in Nairobi on January 15 leaving 22 people dead.
In an earlier incident, a KDF convoy was targeted with an improvised explosive device (IED) on Monday, January 11.
The device was reportedly planted by al Shabaab and it occurred in Juba Region of Southern Somalia.
It was reported that Al Shabaab claimed responsibility of the attack in a statement it shared on its social media outlets.
It was also revealed that on Saturday, January 9, two military vehicles belonging to KDF hit IEDs along Tabdha-Dhobley road of Lower Jubba region.
It was also not clear whether there were casualties in the incident.
Kenyan troops entered Somalia to launch a military offensive against al-Shabaab, called Operation Linda Nchi (Protect the Country).
The troops are part of the AU Mission in Somalia (AMISOM) which was deployed in 2007 in an effort to fight the al Shabaab militia, a branch of al Qaeda.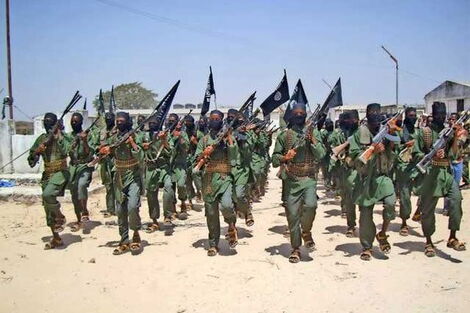 Al-Shabaab militants conduct military drills at a base in Somalia.