Education CS George Magoha is set to face more headaches as parents begin transferring their students from private to public schools.
According to the Kenya Private Schools Association, most private schools are facing closure over the financial crunch occasioned by the Covid-19 pandemic, and the government's Ksh 7 billion promise to cushion them has not yet been realized.
As parents scramble to secure the few slots available in already overburdened public schools, stakeholders who spoke are worried that a practical reopening of schools may be pushed even further.
At Kiu Primary School in Kiambu County, parents who have been flocking the institution, since teachers reported back, are hoping that their lower-primary pupils will get admission.
Education CS George Magoha (sitting at the center) demonstrates social distancing to education stakeholders during a crisis meeting in Nairobi on Friday, September 11, 2020
At Kiambu Township Primary School, John Kago, a parent, laments that he was kept waiting as teachers were called into a staff meeting. He stated that his Grade 3 and Grade 5 children were affected by the closure of their private schools.
"When this disease continued to ravage the entire country forcing children to remain indoors, the landlords to the schools had to restrategize. They converted the schools to rental units," he stated in an interview with KNA.
Some headteachers asked parents to head back home as schools had not reopened and they could not guarantee them slots in their schools.
"We cannot promise any parent that we will admit their children who have been going to other schools here unless we are directed by the government," Beth Kariuki, the headmaster at Kiu Primary School stated.
Nicholas Maiyo, the chairman of the National Parents Association urged Education CS George Magoha to expedite the release of Ksh7 billion concessional loans to private schools to avert further crisis.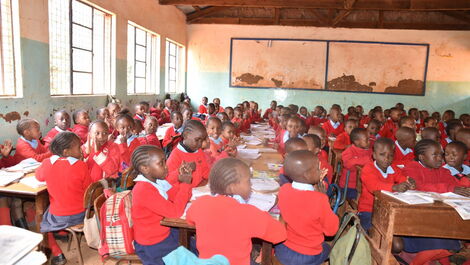 File image of a congested classroom in Kenya
"The academic calendar may once be affected if congestion worsens. Remember we haven't even yet reopened schools. We have no issue if parents transfer their students from private to public or vice versa. However, we may witness another crisis if CS Magoha does not act," Maiyo stated.
President Uhuru Kenyatta declined to reopen schools in his September 28 address asserting that the safety of learners had not been assured yet. This is exacerbated by the fact that barely any school has been able to effect decongestion protocols to ensure social distancing.
The recruitment of 11,000 teachers to public schools is currently underway and the Teachers Service Commission (TSC) believes that this will enable the setting up of more classes to tackle congestion.