Over the last month, the Directorate of Criminal Investigations (DCI) has highlighted countless tricks used by con artists to defraud unsuspecting Kenyans.
The worrying trend has seen the security arm of the government issuing warnings on the various ways fraudsters lure Kenyans into their money-draining schemes.
Speaking, Mureithi Muraya, the son to a victim of an elaborate scam gave an elaborate narration of how millions simply vanished into thin air.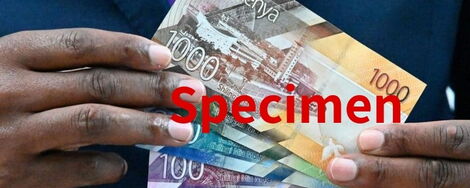 File image of Kenyan banknotes
"He was approached by a group of six "professionals" who claimed to have a direct connection to authorized money printers in the country. They told him that with a deposit of Ksh1.2 million, their inside guy could easily convert it to Ksh21 million deposited directly to his bank account in small periodic amounts to evade suspicion.
"Having met the six through a friend, he took the bait. He took a loan against his land and made the deposit. The group kept in touch with calls for patience until they suddenly fell off the face of the earth," he narrated.
He went on to reveal that the six had mentioned a banker known to his dad as part of their team. However, following the con, the family is now left grappling to pay the loan or risk losing their piece of land.
Mureithi's story has been told by thousands of Kenyans who have lost millions to smooth-talking swindlers, albeit in differing versions.
Here's a break down of some of the most common tricks used to swindle Kenyans:
Fake Dating Sites
On October 12, a 28-year-old woman was arraigned in court over Ksh453,000 online dating scam.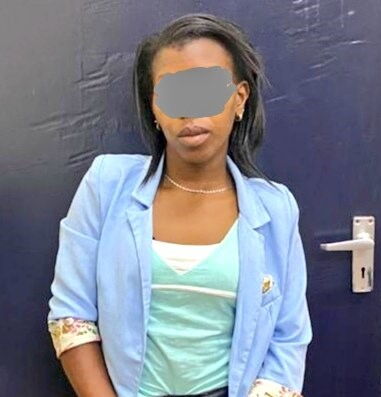 A suspected member of the syndicate that has been luring unsuspecting victims through online dating sites.
According to the police report, the suspect, Mary Kioko is allegedly part of a grand scheme used to lure men through an online dating site.
"On September 22, the lady met the victim on the dating site before luring him to a house in the said estate, where on arrival three men joined them in the room," reads an excerpt from the DCI statement.
The suspects allegedly tortured the man forcing him to reveal his ATM and mobile money passcodes and later dumped him along Mombasa Road.
Preying on the need for companionship, such fraudsters market themselves on social media using stunning photos before going on to carry out their con job.
"The intellect is always fooled by the heart," French moralist and author François de La Rochefoucauld once stated.
The Car Con Job
This particular ploy has taken several narratives over the years. However, the underlying theme involves a car dealer with access to the best deals on the planet.
For example, a swindler could convince their intended victims that there are cars at the port which were imported but the owners either died or could not afford to pay duty.
Such cars are often destroyed, but the swindler knows someone at the port who can sneak out a high-end car.
The opportunity to save several thousand has proven alluring to many Kenyans who then end up losing ten times the amount they were looking to save.
On October 17, DCI Detectives arrested a suspected fraudster, Patrick Olindo Aswani, at Jomo Kenyatta International Airport (JKIA).
Aswani was accused of fraudulently obtaining money from several unsuspecting citizens on the pretext that he could import vehicles on their behalf.
Patrick Olindo Aswani.
"Individuals or Entities that could have fallen victim to his fraudulent activities are requested to get in touch with the Regional Criminal Investigations office, Nairobi (Adjacent to Integrity Center) for assistance," reads an excerpt from the police report.
Dropped Envelope Con
This has been used on thousands of Nairobians, with cautionary tales shared across social media platforms.
In a nutshell, a stranger drops an envelope stuffed with 'money' upon which being picked by the mark, another stranger emerges and offers unsolicited advice on how to split the money.
The victim is then lured into a back street where he or she is robbed of cash and valuables.
Disappearing Luggage
This usually targets Kenyans walking around the Central Business District (CBD) with tonnes of luggage. A 'good samaritan' often appears with a 2 wheeled mkokoteni.
"Kufika Luthuli avenue kimtu kikakuja ati kinibebee nimpee 50bob, nikaburgain akakubali 30bob hadi fire station, haikupita ata 5min… gari ikpita mbele yetu na huyo mtu akapotea hivo na mali yangu yote… nilijipata na mti ya mop nazurura tao ata sikuwa najielewa for about 30 minutes,
(Once I got to Luthuli Avenue, someone approached me and offered to help me with my luggage for Ksh50. I bargained and we agreed on Ksh30. However, in just under 5 minutes, a car passed by and that was the last I saw of him. I was left stranded and confused with just a mop stick in hand)," a victim narrated.
The Excited Crowd Trick
This particular tactic has been used for decades. It involves a visibly excited crowd usually located along pedestrian walkways close to bus stations.
The mark is then lured by the crowd by the urge to find out what is going on and from then on it's a matter of reeling him/her in and draining them of their money.
"I can't believe that I was that naive by then. I saw a crowd outside St Peters Cleavers. My curiosity got the better of me and I just had to find out what was going on. They were playing kamari (gambling) and so I got excited after thinking of how I would double my cash without sweating,
"I first gave them 200bob then Ksh2,000. The deal became good and sweet and I wasn't thinking twice either. Those guys told me that my cash had doubled itself and I was super excited. I gave them Ksh6,000. The worst happened, they escorted me to an ATM and I withdrew Ksh 40,000 for them and the rest is history," one victim detailed.
Such fraudsters are also known to use some kind of spray or chemical to place their victims in a sort of trance before luring them to ATMs where they drain their savings.
Farm Con
This one has also taken various narratives over the years, but they all hinge around farm produce that can rake in millions in no time.
In April 2005, for example, a group of people convinced farmers in Mukurwe-ini, Nyeri County, that they had a ready market for chameleons.
They urged farmers to go into the coffee, tea, and wild bushes and collect chameleons with a promise that brokers would bring some foreigners to buy them at a price ranging between Ksh1,200 to Ksh1,500 depending on size and color.
Having paid a 'small' registration fee to access the lucrative market, things soon turned for the worse.
On the appointed day, farmers from Mukurwe-ini, Othaya, and Tetu woke up early and invaded Tambaya Market in Mukurwe-ini ready with their chameleons. But by the end of the day, neither the brokers nor "foreign" investors had showed up.
There are countless cons currently being employed on Kenyans, from fake gold deals to money laundering traps popularly known as wash-wash, to fake 'nano-tech screen protectors.
However, the common thread is that all fraudsters prey on one key thing, greed, if the offer is too good, it is highly recommended that you walk away.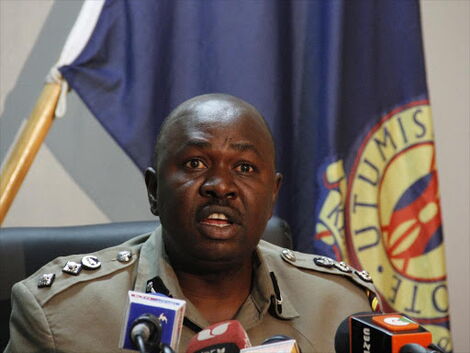 Police spokesperson Charles Owino.