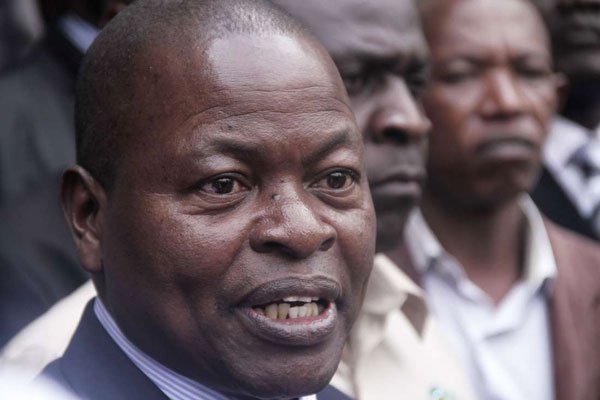 An interdicted principal has cried foul over what she perceives as reluctance by the secondary school teachers union KUPPET to help her.
Judy Wanjiru Ngugi, the principal of Kimutwa Secondary School in Machakos County, is currently fighting to have her interdiction revoked by the Teachers Service Commission.
She claims that claims that her union, the Kenya Union of Post Primary Education Teachers (Kuppet), has been of little help to her despite her request.
However, Kuppet Secretary-General Akelo Misori said his office in Machakos had only learnt about the case through communication with TSC office.
"We can only step in when the case is dragging and fast-track it, but she has not gone physically to our office to raise her concerns," said Mr Misori.
Ms. Ngugi was interdicted on December 7 last year on allegations of neglecting duty by failing to collect examination papers for Mathematics paper 121/1 and Chemistry paper 233/1 on November 7 for her school.
She has also been accused of making a trip to Dubai from November 5 to 7 without due authorisation from the commission. She, however, argues that she sought the permission of Machakos Sub-County Director of Education Francis Munyeke to delegate to one of her teachers to stand in for her.
The principal says that she appeared before the TSC Disciplinary Panel on March 1 and ironically, a different charge was brought against her other than the one on her interdiction letter, contrary to the Teachers' Code of Regulations, which require that only the allegations in the interdiction letter are supposed to be considered.
Ms Ngugi claims that the disciplinary panel, comprising of a TSC commissioner and other TSC staff, did not allow her to present her defence, adduce any evidence or cross-examine her accusers, who were Ireri Muturi, the Machakos County director of education, and Mr Munyeke, contrary to Chapter X of the Teachers' Code of Regulations(2013).
On April 6, the TSC Machakos County education director issued her with a second interdiction letter, also effective December 7, with fresh charges in the guise of an amendment, and whose charges he had initially dropped at the show-cause stage.
According to KUPPET's Misori, the TSC has a right to amend charges against an employee.