Murang'a Senator Irungu Kang'ata has conceded that his time as Senate Majority Whip might be nearing its dusk.
The Senator while on an interview with vernacular station Inooro on January 10, 2021, revealed that there was already a plot within the Jubilee Party to relieve him of his duties in the upper house.
Kang'ata also stated that he had been left out of a Building Bridges Initiative (BBI) team formulated to spearhead sensitization campaigns for the report in the Mount Kenya region.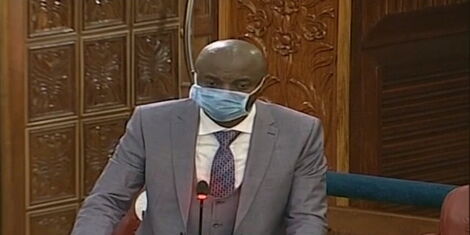 Senate Majority Chief Whip Irungu Kang'ata addresses the Senate on Wednesday, May 13, 2020
"I heard they want to take my Senate leadership position immediately after the BBI referendum. Already they have removed me from the BBI campaigns leadership in Mt.Kenya region," Kang'ata stated
"If the party decided to remove me from the position of the whip because of my stand, then I will accept and thank them for giving me the chance to serve," he added.
Kang'ata stated that he was ready for any consequences that may be thrown his way, reiterating that he felt obliged to tell President Uhuru Kenyatta the truth. He stated that he wrote the letter out of good faith and is still loyal to President Kenyatta.
He maintained that the BBI report was still unpopular in the Mt Kenya region. He reiterated that he only wrote the letter dated December 30, disowning one dated January 4, 2021.
The Murang'a lawmaker conceded he regrets the letter leaked to the public and the outcome of the entire situation that has since backed him into the receiving end of criticism from various quarters of pro-BBI leaders.
Kang'ata also alleged that he had received threats on his life and he had recorded a statement with the Directorate of Criminal Investigations (DCI).
In an interview earlier January 11, the Senate Majority Whip argued that some political factions in the country had ideas that need to be incorporated in the report, terming them good.
"We need to accept good ideas irrespective of who they are coming from, there are ideas that have been given by the so-called Tangatanga wing that is very good," Kang'ata stated.
He tended to incline towards Deputy President William Ruto's idea to have a multiple-choice referendum, maintaining that the report as a whole risked being rejected by members of the public.
President Kenyatta on Saturday, January 9, dismissed Kang'ata's letter stating that he did not need to be lectured.
The president alluded to the letter during the burial of ANC leader Musalia Mudavadi's mother, Mama Hannah Atsianzale, saying that he was in charge of the government.
"Some people are writing useless letters but they should know I don't need to be lectured. I know where I am and I am very clear about where I am going," he stated.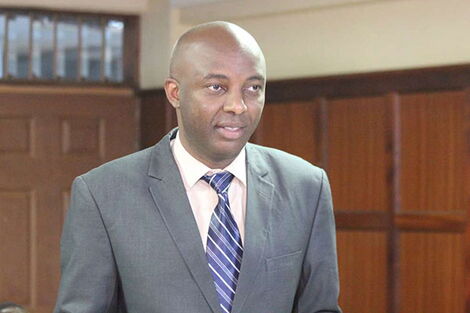 Murang'a Senator Irungu Kang'ata attends a court session on August 29, 2019