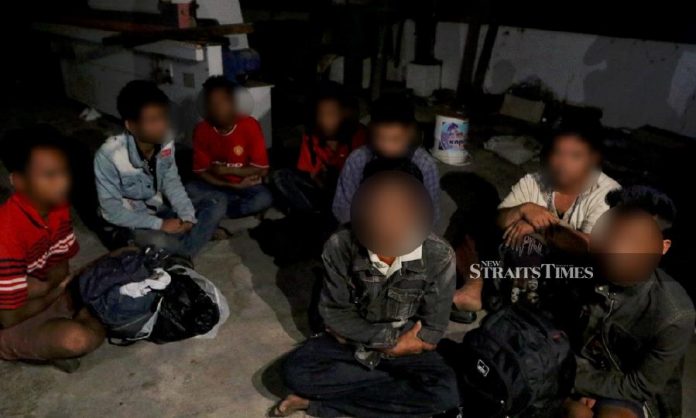 Nearly 500 young boys and men have been rescued from a "torture house" where they were chained up, abused and forced into slavery, say police.
Some of the boys and men had been held captive for years inside the building of horrors, which was advertised as an Islamic school, in Kaduna, Nigeria.
Victims as young as five had been tortured, sexually abused and starved while they were prevented from escaping, according to police, and there were signs they were being indoctrinated.
Many of the children had metal chains around their ankles and visible injuries, and one of those who saved claimed detainees had died.
Police said eight people have been arrested and all of them were said to be teachers.
Some of the children told police they were taken to the building by relatives who thought it was a Koranic school.
Bello Hamza, who spent three months in chains, told reporters: "I got admission to study applied mathematics, but here I am chained.
"They claim to be teaching us the Koran and Islam but they do a lot of things here. They subject the younger ones to homosexuality."
There is no evidence to suggest the building was ever a school, according to police.
Bello, 42, claimed: "This is supposed to be an Islamic centre, but trying to run away from here attracts severe punishment; they tie people and hang them to the ceiling for that, but engaging in homosexuality attracts no punishment.
"Within my short stay here, somebody had died as a result of torture.
"Others have died before my coming due to poor health and torture.
"They give us very poor food and we only eat twice a day; 11 am and 10 pm.
"They have denied me a lot of things here. I am a family man, I have responsibilities, but I am chained here not knowing what is happening to my family members."
Some of those who were being held captive and tortured were from outside Nigeria, including Burkina Faso and Mali.
All the children seen by a Reuters reporter at the scene were boys aged from around five to their late teens.
Some had their ankles manacled together and others were chained by their legs to large metal hubcaps.
Police chief Ali Janga told the BBC the large house was raided following a tip-off about suspicious activity.
He described it as a "house of torture" and said it was a case involving human slavery.
He told reporters: "We received information that something is going on in this rehabilitation centre or Islamic centre.
"On getting here, we discovered that this is neither a rehabilitation centre nor an Islamic school.
"These people are being used, dehumanised."
Islamic schools in Nigeria have for years been dogged by allegations of abuse and accusations that some children have been forced to beg on the streets of northern Nigerian cities.
Earlier this year, the government of President Muhammadu Buhari, himself a Muslim, said it planned to eventually ban the schools, but would not do so immediately.
It followed a number of reports in the Nigerian media that the government planned to outlaw such schools.