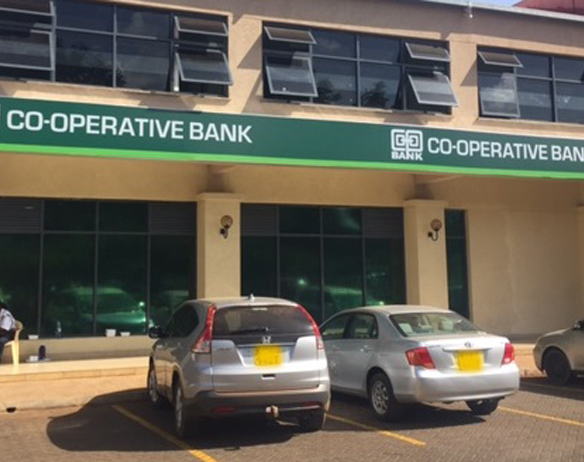 The Co-operative Bank has posted a net profit of Sh. 6.6 billion in the first half of this year.
The profit came against the backdrop of a tight operating environment especially with the capping of interest rates, general economic slowdown in an election year, currency devaluation and hyperinflation in South Sudan.
During this period, the bank's total assets grew by Kshs 20 billion to Kshs. 383.3 billion compared to Kshs 363 Billion in the same period last year.
Customer deposits grew by Kshs. 7.6 billion to Kshs. 287.2 billion compared to Kshs. 279.6 billion in the same period last year.
The bank was able to record an increase in fees and commissions from loans and advances. These grew by 14.3 per cent from Kshs1.20 billion to Kshs1.37 billion.
Additionally, foreign exchange income increased by 28.2% from Kshs 969.35 million to Kshs 1.24 billion.
During the period, Co-operative Bank of South Sudan that is a unique Joint Venture (JV) partnership with Government of South Sudan made a marginal loss of Kshs. 0.06 Million. This loss was attributed to hyperinflation occasioned by devaluation of the South Sudanese currency.
"We have put in place strategies intended at sustaining long-term profitability, with current challenges in the operating environment being mitigated by the benefits arising from the successful execution of the 'Soaring Eagle' Transformation project," said Co-op Bank's chief executive officer Gideon Muriuki in a statement.
During this half-year financial period, Co-op Bank received its first ever international rating by the global credit ratings firm Moody's where it was assigned a B1 Global Rating and a strong Aa2 National Scale Rating, affirming the strong performance of the bank on all fronts.
"The strong rating is a credible signal to the bank's counter-parties especially investors and development partners," said Mr. Muriuki.
In the period under review, Co-op Bank's shareholders' funds grew from Kshs. 57.9 billion to Kshs. 64.5 billion. This represented a growth of 11.3 per cent which was supported by a steady growth in earnings and a dividend policy geared towards a progressive growth.