The Public Service Commission (PSC) has announced vacancies in various government departments.
The jobs advertised ranging from entry-level to senior management with varying salary scales from Ksh25,000 to Ksh197,000.
In the notice, the commission states that the applications should be sent on or before March 15, 2021 by 5 pm.
Public Service Commission building in Nairobi, Kenya
Interested and qualified persons are requested to make their applications online through the Commission website: www.publicservice.go.ke or jobs portal: www.pick jobs.go.ke
1. All first-time users of the Online Recruitment and Selection system are required to register by providing an ID / Passport Number, Surname, current Email address, and a password to access the system.
2. To apply for any advertised job or internship opportunities, log into the system using the ID / Passport Number and the Password created in (1) above.
3. Applicant must ensure that information pertaining to personal details, professional and academic qualifications, experience, membership to professional bodies, referees, and any other relevant information is provided before submitting the application. Incomplete applications will not be considered.
4. Applicants are advised to print and keep a copy of the Feedback Report (application summary) by clicking on the Report tab or Application Summary link on the Application Menu.
5. The Online Recruitment and Selection system allows applicants to amend/revisit their application(s) at any time before the Advert Closure Date.
6. The preferred Internet Browser for this system is Mozilla Firefox
Note: Section 100 (4) of the Public Service Commission Act 2017 provides that a person who gives false or misleading information to the Commission is, on conviction, liable to a fine not exceeding Kshs. 200,000 or to imprisonment for a term not exceeding two years or to both such fine and imprisonment.
How to Reset Password
Users who had registered in the previous version of this system are required to register afresh by providing an ID/Passport number, surname, email address, and password.
In event that you forget the password, click the "Forgot Password" link and provide the email you had used to register.
A link will be sent to the email address to enable you to reset your password.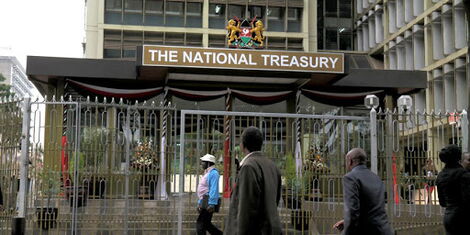 The National Treasury offices at Harambee Avenue, Nairobi
National Treasury
Accountant II – 250 posts
Ministry of Interior and National Government
Deputy Director, National Registration (Persons) – 7 posts
Deputy Director, Gaming – 3 posts
Assistant Director, Gaming – 3 posts
Assistant Director, Human Resource Management and Development – 40 posts
Ministry of Defence
Senior Director, Corporate Affairs and International Relations – 1 post
Medical specialist – 3 posts
Medical Officer – 3 posts
Dentist – 2 posts
Specialized Care nurse – 10 posts
Civilian administrative officer – 10 posts
Plaster Technologist III – 2 posts
Photographer Officer III – 1 post
Printer III – 3 posts
State Department for Culture and Heritage
Programme Specialist (Marketing) – 1 post
Ministry of Energy 
Geologist II – 4 posts
Geophysicist II – 2 posts
GeoChemist II – 2 posts
Assistant Engineer II (Mechanical) – 4 posts
Assistance Engineer II (Electrical) – 4 posts
Renewable Energy Officer – 4  posts
Cartographic Assistant III – 2 posts
Inspector (Electrical) – 2 posts
State Department for Housing and Urban Development
Housing Officer I – 90 posts
Estate Manager Officer – 40 posts
Estate Management Assistant III – 24 posts
Assistant Architect – 3 posts
Building Surveyor II – 3 posts
Assistant Quantity Surveyor II – 3 posts
Land Surveyor II – 3 posts
Assistant Engineer II (Electrical) – 3 posts
Assistant Engineer II (Water) – 3 posts
Assistant Engineer II (Roads) – 3 posts
Assistant Engineer II (Structural) -3 posts
Physical Planner – 5 posts
Inspector (Building) – 16 posts
Inspector (Electrical) – 5 posts
Inspector ( Mechanical) – 4 posts
Ministry of Water, Sanitation and Irrigation
Director (Trans Boundary Water Resources) – 12 posts
Deputy Director (Trans Boundary Water Resources) – 8 posts
Assistant Director (Trans Boundary Water Resources) – 1 posts
Director/ Chief Engineer (Water, Sewage, and Sanitation) – 1 post
Deputy Director/ Senior Principal Superintending Engineer (Water, Sewerage, and Sanitation) – 5 posts
Assistant Director/ Chief Superintending Engineer (Water, Sewerage, and Sanitation) – 4 Posts
Deputy Director/ Senior Principal Superintending Engineer (Water Infrastructure Development) – 12 posts
Assistant Deputy Director/ Senior Principal Superintending Engineer (Water Infrastructure Development) – 8 posts
Deputy Government Chemist – 3 posts
Assistant Government Chemist – 4 posts
Deputy Director/ Chief Principal Water Research Officer – 3  posts
Assistant Director/ Senior Principal Water Research Officer – 4 posts
Senior Principal Superintending Hydrologist – 3 posts
Chief Superintending Hydrologist – 3 posts
Senior Principal Superintending Geologist – 5 posts
Chief Superintending Geologist – 3 posts
For any Inquiries
Send an email to pscict@publicservice.go.ke. Please include your ID /Passport Number and full name
You can also call the following numbers: Landline: +254 (020) 2223901, 254 20 2227471 Call Centre: 020 4865000