The UN on Monday, July 20, broke ground on a Ksh1 billion Covid-19 health facility in Nairobi, Kenya, with the mega-project set to take 60 days.
According to a press statement sent out by The Nairobi Hospital (TNH), the 150-bed Covid-19 treatment facility will be constructed at the Nairobi Hospital Old Nursing School.
"The UN recognised the need to contribute to the national pool of Covid-19 cafe beds and facilities, both to bolster the capacity of the Kenyan healthcare system and ensure a reliable referral facility for its staff and families in Kenya and the region," TNH CEO Dr Allan Pamba stated during the groundbreaking ceremony.
He went on to reveal that the new facility would be equipped with top-of-the-range machines including; HDU beds, ICU beds and Extracorporeal Membrane Oxygenation (ECMO) capability.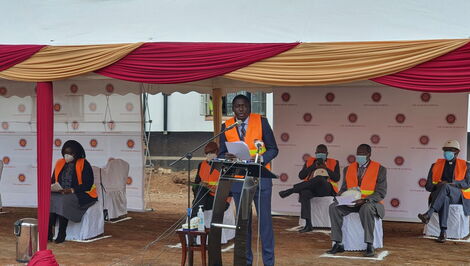 The Nairobi Hospital CEO Dr Allan Pamba speaking during the ground-breaking ceremony. July 20, 2020.
It  will  also  include  an  Operating  Theater, Laboratory,  Pharmacy  as  well  as  radiology  diagnostics  – essentially, the new centre will operate as a semi-autonomous hospital
UN staffers and their family members working within Kenya, as well as the greater Africa region, will have access to the centre in case of infection.
However, Dr Pamba was quick to point out that non-UN staff would also be treated at the centre, reiterating that the purpose of the project was to boost the country's capacity to handle Covid-19 patients.
"We will admit both UN and non-UN patients to these facilities. All patients will be the responsibility of TNH. We are acutely aware that many UN patients and families have been caught up in the region in the line of duty," he stated.
Cabinet Secretary for Foreign Affairs Rachel Omamo, Director General of the United Nations Office in Nairobi (UNON) Zainab Hawa Bangura and Health CAS Rashid Aman were all present during the ceremony.
The United Nations Office at Nairobi (UNON) is one of four major United Nations office sites where numerous different UN agencies have a joint presence. Established in 1996, it is the UN's headquarters in Africa and has employed thousands over the years.
The United Nations Office at Nairobi also hosts the global headquarters for two programmes: the United Nations Environmental Programme (UNEP) and the United Nations Human Settlements Programme (UN-Habitat)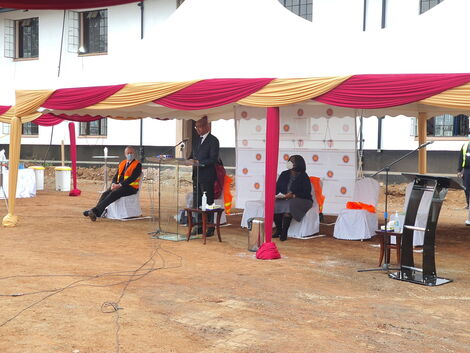 Health CAS Dr Rashid Aman speaking at The Nairobi Hospital during the groundbreaking ceremony of a new health facility. July 20, 2020.