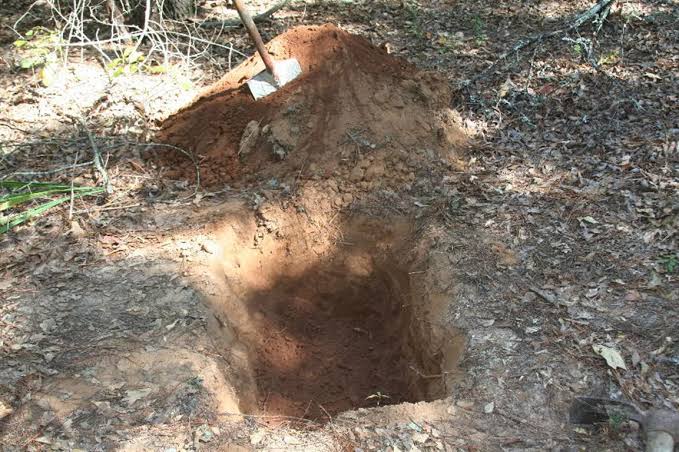 Flower farm workers in Naivasha are living in fear after the body of their colleague who has been missing ten days was found buried in a shallow grave.
In what is believed to be a ritual killing, the body that was found near Karagita estate did not have one leg and one eye.
The woman identified as Nancy Wangui went missing on New Year after leaving her house at 430am to report to one of the flower farms where she worked.
There were fears that the woman could have been sexually abused before the eye was gouged out and the leg cut off at the thigh.
Emotions ran high on Thursday evening as police and members of the public moved in to exhume the body before taking it to the area mortuary.
According to Antony Mburu the brother to the deceased, their sister left for a job very early in the morning as has been the norm.
He told of their concern after she failed to return in the evening and on enquiring they were informed that she had not reported for duty.
"WE SENSED THAT SOMETHING WAS WRONG AND REPORTED THE MATTER TO THE POLICE AS WE MOUNTED A FRUITLESS SEARCH FOR HER," HE SAID.
Amid tears, Mburu told of their shock after they were informed about a body buried in a shallow grave near the sprawling Karagita estate.
His younger brother Stephen Mburu told of the family pain after her body was discovered with some body parts missing.
He said that they were had searched in various police stations and hospitals to no avail until some minors stumbled on the body.
"IT'S PAINFUL THAT MY INNOCENT SISTER HAD TO DIE IN SUCH A PAINFUL DEATH AND WE HOPE THOSE RESPONSIBLE WILL BE ARRESTED," HE SAID.
An elder Mohammed Was decried the odd hours that flower farmworkers were reporting to duty adding that they were exposed to attacks.
"THIS ROAD IS IN PATHETIC CONDITION MAKING IT HARD FOR FLOWER FARMWORKERS WHO REPORT TO WORK AT 5 AM HARD TO GET MEANS OF TRANSPORT," HE SAID.
Naivasha OCPD Samuel Waweru confirmed the incident adding that they were treating it as murder though no suspect had been arrested.
"A REPORT WAS MADE OVER A MISSING WOMAN A WEEK AGO AND THE BODY HAS BEEN DISCOVERED BURIED IN A SHALLOW GRAVE AND OUR OFFICERS ARE FOLLOWING IT UP," HE SAID.