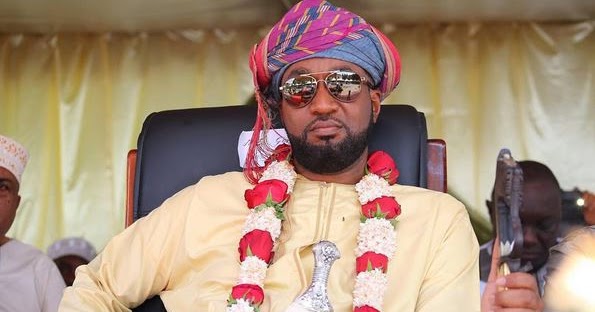 1. Ali Hassan Joho 'Governor 001'
To say the 'emperor' of Mombasa County is elegant is an understatement. The man who represents County 001 is 'swaggerific' and trendy. Some admirers would say he's "the one every outfit seem to adore."
Be it in casual, official or religious attire, Joho's frame has ways of making clothes look good with his chic sense of the occasion. Even baseball caps and gangster sunglasses have ways of appearing like they were custom-made for him and nobody else.
His choice of denim pants, cuffed khakis, time pieces and loafers is spot on, such that one can safely say his recent boxed, dyed beard, Arab garb, janbiya (dagger) secured by a scarf and madigaga (sunglasses) got tongues wagging in admiration of his sartorial flair. Is he the hottest governor?
2. Senator James Orengo
He of the 'seven bearded sisters' tag, Siaya Senator James Orengo has proved wrong the perception that fashion fads fade with age. Even as he bends his mid 60s, the ageless Jimmy still retains his sense of pricey, well-fitting, pin-striped suits that frame his lithe frame. Even when casually dressed, Orengo looks hip in his expensive checked shirts, which the late Senator Mutula Kilonzo once complained as being sourced abroad for eye-popping price tags.
Jimmy still loves untucked floral shirts as well. It is as if for the former Ugenya MP, "clothes are never a frivolity; they always mean something!"
3. CS Najib Balala
Mr 'Ninajibu' will be spotted most times in fitting dark suits that seem to complement his light complexion.
His are the double slit suits and bright shirts that go well with flowery and bright ties, even though he apparently has no much liking for pocket squares. The double slits seem to accommodate his movements. And when it comes to casual wear, his weakness for polo shirts is unmatched, mostly the bright ones that seem to fit his brawny body and accentuate his features that can't go unnoticed.
The Cabinet Secretary for Tourism will sport jeans, red loafers and checked, tucked shirts that accentuate his tall frame in a manner to suggest that "the difference between style and fashion is quality."
4. 'Jenerali' Ababu Namwamba
Although his box-like, 'Aurlus Mabele' hairstyle has ways of sitting on his head like a canoe about to be oared to Bundalang'i, give the man credit for sporting well-cut suits, three-piece or not, and always with a polka-dot pocket kerchief.
Pius Tawfiq Ababu Namwamba is 'The Dapper Don' even when dressed in replica military regalia or white linen. He knows what suits him perfectly, including fitting leather jackets. With Ababu, you can safely say that he exemplifies the saying that "a man should look as if he has bought his clothes with intelligence, put them on with care and then forgotten all about them."
5. MCA Karungo wa Thang'wa
The radio journalist turned politician has wardrobe IQ that makes the title Member of County Assembly read like 'Member of Clothing Assembly,' for Thang'wa and his Kalonzo Musyoka hairstyle has ways of stepping out in laundered suits that can make you think there is no red soil in Kiambu County.
His tall and slender body gels well with his fitting suits and he's hip too in velvet blazers, leather jackets, khaki and jeans pants and canvas shoes. Indeed, with Thang'wa, "clothes mean nothing until someone lives in them."
6. MCA Daniel Mutiso alias 'Sonko'
His is not the biggest name in the political arena. His name sounds like that of a leader of some boyband from Yatta Plateau, but the MCA for Ngei Ward in Mathare Valley slums in Nairobi has quite some fashion sense that goes beyond the famed yellow colour of a 'certain community' from eastern Kenya. Nicknamed 'Sonko,' this MCA once stopped proceedings as fellow members stared at him as he entered the assembly. The Speaker, Alex ole Magelo, noticed his elegance and observed that, "Mutiso is properly dressed before the House and we also need popstars among ourselves."
Last year, he accompanied the Speaker and an Embakasi MP to an event in Munyonyo, Uganda, where he ended up stealing the show in the event presided by Uganda President Yoweri Museveni. Mutiso was so stylishly dressed,  officials there mistook him as the 'top man' and ushered him to share the dais with Museveni, and was even chauffeured in an official Ugandan government limo!
Magelo, the MP and other members of the Kenyan delegation, relegated to the backbenches and even shoved aside by police to make way for 'Sonko' Mutiso. Who said Kaos can't dress?
7. George Theuri
The Embakasi West MP sports eye-catching official wear, but he's even more elegant in casual gear to appeal to ma-boy wa mtaa – that's you'll find him in bling bling, browline sunglasses, leather jackets and caps?
He will be clad in body-hugging T-shirts to go with 'total eclipse of the sun' glasses as if to say, "You don't find a style. A style finds you."
8. Mutula Kionzo Junior
Like his father, Senator Mutula Kilonzo Junior has a fetish for double vent dark pinstriped suits. Apparently, Kilonzo Junior picked this fashion sense from his late father.
The Makueni Senator is trendy in fitting suits and when he goes informal in collarless branded shirts and velvet jackets, the elegance is not lost, especially when it brings out his towering height. We are not sure whether the inside lining of the suits is the colour red loved by his father, who maintained the same tailor in Hong Kong!
Junior's fashion sense whispers that "style is a way to say who you are without having to speak."
9. Kimani Ichungwa
You can bet your shirt on Kikuyu MP Kimani Ichungwa when it comes to choice of matching colours and fitting suits.
Kimani is mostly seen in official garb, with his suits largely being plain-coloured, striped and windowpane patterned. He also has a penchant for navy gingham, Bengal stripe and hairline stripe shirts and paisley ties. Ichungwa's style seems to say that "people will stare. Make it worth their while."
10. Ken Obura
The Kisumu Central MP has ways of perfectly matching assorted colours, be it jeans or velvet pants, polo T-shirts or windowpane striped suits, and he does ooze elegance when in plain black and blue suits, bright shirts and striped ties.
His sense of dressing seems to say that, "Fashion is what you're offered four times a year by designers, and style is what you choose."