Jubilee Vice Chairman David Murathe has hit back at Deputy President William Ruto, warning him of new dire consequences after the DP pinpointed Murathe as the cause of divisions within the party.
Murathe first dared Ruto to quit, arguing that the DP had proven to be impatient and a thorn in the flesh of President Uhuru Kenyatta.
The President's ally stated that Ruto's desire to run for 2022 had blinded him, adding that had the DP waited a little longer, Kenyatta would have run his campaign.
Murathe was infuriated by Ruto's accusations after the DP was interviewed on Citizen TV by Editorial Director Joe Ageyo on Thursday night, August 27.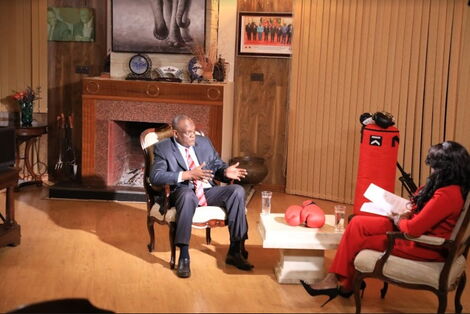 Jubilee Vice Chairman David Murathe (left) in an interview with K24 TV's Anne Kiguta (right) in 2019
"Mambo bado, ni kionjo tu. You wait, atajua hajui… (This is just the beginning and he has only just tasted a small portion of what awaits him). We will prove to him that he's not as smart as he thinks," Murathe stated in an interview with a local daily.
Murathe added that Ruto had betrayed their (Jubilee members) trust and also revealed the real reason as to why Ruto and Kenyatta broke up.
The DP's relationship with the president reportedly started wavering after the famous handshake between Kenyatta and Orange Democratic Movement leader Raila Odinga in March 2018.
However, according to the Vice-Chairman, the duo's relationship ended months before the controversial 2017 General elections.
The DP reportedly kickstarted a plan to take over all key party organs in the run-up to the 2017 General Elections by manipulating the nomination process to hand tickets to a number of candidates sympathetic to his State House ambition.
Kenyatta nonetheless laid in silence and struck back through the purge which saw all Ruto allies ejected from Jubilee and Parliamentary leadership positions.
On Thursday night, August 27, Ruto hinted at quitting the Jubilee Party after accusing President Uhuru Kenyatta allies of hijacking the faction.
"Jubilee is not functioning as a party. We folded about 12 political parties to form Jubilee. Unfortunately, the party has been hijacked by busybodies, conmen, and brokers like David Murathe who have no clue about our philosophy. Their word has become the party position.
"There is something wrong with juniors who insult their seniors. If it becomes hopeless and Jubilee is hijacked by the brokers, then waswahili wanasema, 'kuvunjika kwa mwiko sio mwisho wa kupika'. (The wise men say that breaking a cooking stick should not be a reason for not cooking), Ruto stated.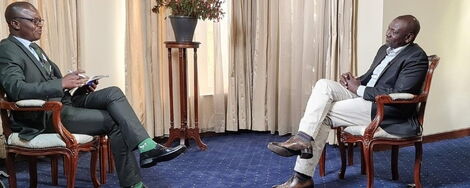 Deputy President William Ruto (right) in an interview with Citizen TV's Joe Ageyo on Citizen TV on Thursday night, August 27, 2020