Update 12:42 p.m.: The police in Nairobi have launched investigations into the untimely death of revered Kiswahili author Professor Ken Walibora. Investigators are looking for the matatu driver who hit and caused the death of the 55-year-old veteran journalist.  
Update 12:36 p.m.: Orange Democratic Movement leader Raila Odinga and Deputy President William Ruto have sent glowing tributes to the late Walibora.
My condolences go out to the family of Kiswahili Author and distinguished journalist Professor Ken Walibora. He penned great literary works that will remain etched in the memories of many. May the Lord grant his family comfort at this trying moment and may his soul rest in peace," Raila condoled.
"Our thoughts and love go out to Prof Walibora's family, friends, the academia and the media fraternity. Rest in peace," Ruto added.
Update 11:49 a.m.: President Kenyatta condoled with the family of celebrated Kenyan Kiswahili scholar, author and journalist Professor Ken Walibora.
"President Uhuru Kenyatta has condoled with the family of celebrated Kenyan Kiswahili scholar, author and journalist Prof Ken Walibora.
"The president described the late Walibora as a polished broadcaster and prolific writer whose literary works will continue to inspire future generations," a statement from State House reads.
Veteran Swahili author and former NTV anchor Ken Walibora Waliaula, 56, passed away on Friday, April 10, after being involved in a tragic road accident on Landhies Road, Nairobi.
NTV was first to report on Wednesday, April 15, with Citizen TV adding later on that Walibora's body was found at the Kenyatta National Hospital mortuary. The celebrated author was rushed to the facility for treatment where he succumbed to the injuries sustained during the accident.
Ken Walibora Waliaula was born on January 6, 1964, at his parents' home in Baraki, Bungoma. His family moved to Kitale and later Cherangany with the Trans Nzoia region later on shaping up the idea for his book Siku Njema.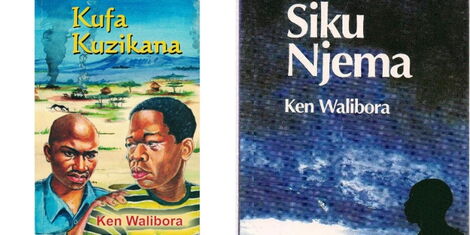 A collage of Swahili books Kufa Kuzikana (left) and Siku Njema (right) by the late author Ken Walibora
FILE
The scholar has over 40 titles to his name. Among the most famous of these are Ndoto ya Amerika and Siku Njema. The latter was a secondary school set book between 1997 and 2003.  Kidagaa Kimemwozea, another popular book was also used as a compulsory text in secondary schools in 2013.
Among other notable books, the author wrote, include Kufa Kuzikana, Tuzo, Ndoto ya Almasi and Damu Nyeusi co-edited with Said A. Mohamed.
Apart from anchoring and authoring books, he also taught as a lecturer in the US.  A teacher by profession, Walibora served as a Swahili high school teacher between 1985 and 1986. He later worked as a probation officer at the Ministry of Home Affairs between 1988 and 1996.
Later that year, he joined Kenya Broadcasting Corporation (KBC) as a Swahili radio news anchor, news editor and translator.
Walibora later moved to the Nation Media Group in 1999, where he worked as an anchor for 6 years.
In 2005, he graduated as a teaching associate at Ohio State University, US, and became an associate professor in the Department of African Languages and Literature at the University of Wisconsin-Madison, US, on August 24, 2009.
Walibora also reviewed and translated several books. In 2003, he translated Kenya's draft constitution serialised in the Kiswahili language daily newspaper Taifa Leo.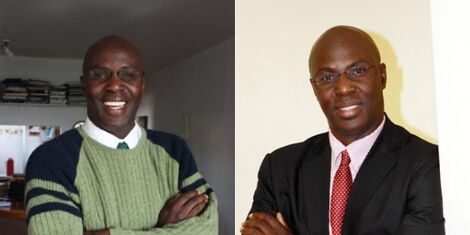 A photo collage of former NTV and KBC anchor, the late Ken Walibora