Maria series is one of the most-watched shows in Kenya. Its rating has further ensured Citizen TV remains as the top TV channel, according to The Communications Authority of Kenya survey on Audience Measurement and Broadcasting Industry Trends Report released in December 2019.
In November 2020, several reports emerged on social media claiming Maria series actors earn as much as over Ksh 200,000 per month. A top producer for local tv shows privy to the financial details refuted the claims and explained how actors are paid across local TV channels.
"NTV and KTN actors are the lowest paid, between Ksh 5,000 and Ksh 10,000 per episode. Citizen TV actors are better paid, between Ksh 10,000 and 25,000 per episode depending on the roles they play.
"Other platforms like MNet pay in premiums, that is above Ksh 25,000 and above per episode. So if six episodes are aired in a month, you earn around Ksh 150,000 per month. If they are aired four times, you earn Ksh 100,000 per month," the producer stated.
Citizen TV's Maria actors pose for a photo in October 2020
It is said that adverts during Maria series aired weekdays from 7:30 p.m. attract a premium rate because of the show having mass viewership during the prime time slot from 7 p.m. to 10 p.m.
Another source added that the actors are paid on a contract basis which includes bonuses and commissions. The contracts are also offered per roles cast in the film.
"Actors don't discuss budgets, they only discuss contracts. Production team discusses the budgets," the source stated in response to this writer.
Citizen TV anchors Lulu Hassan and Rashid Abdalla, the brains behind the show and owners of Jiffy Pictures first hatched a unique way to ensure that the budget of the show was within manageable levels.
Speaking exclusively on Tuesday, October 22, Lulu disclosed that they focused on new talented actors with 98% of the cast never having appeared on-screen. This ensured that the show entails a mixture of veterans and debutants, helps cut production costs, and still entertains the audience.
Citizen TV is famous for airing a number of local shows.  In 2007, the station focused on local entertainment content such as Papa Shirandula, Inspector Mwala, and Tahidi High to woo viewers as opposed to KTN and NTV who focused on airing international soap operas. This saw it assert authority in the industry.
Contracts for actors reportedly guarantee Citizen TV the right to reair the shows as seen through Tahidi High and Papa Shirandula in 2020. For Maria series, Citizen TV allegedly struck a deal with Jiffy Pictures who produce the content.
Speaking exclusively in September 20, a highly placed source from the station explained that Tahidi High actors signed contracts in order to perform on the show with full knowledge that it would be the property of the station. This response was offered after Dennis Mugo (OJ) questioned why the show was being rerun.
With Maria series having lots of followers who have created Facebook and Whatsapp groups to discuss the show, some of the actors have landed opportunities to become brand ambassadors and marketers for corporate firms and products. This acts as an incentive to their contracts.
Some have even started their own YouTube and other social media platforms where they engage their followers with content creation.
Insiders detailed that Lulu Hassan and Rashid Abdalla love the cast and treat them as their own family. The two organize surprise birthday parties and team bonding activities which ensure the cast sustain their morale and cultivate chemistry. This makes the show even more appealing to the audience.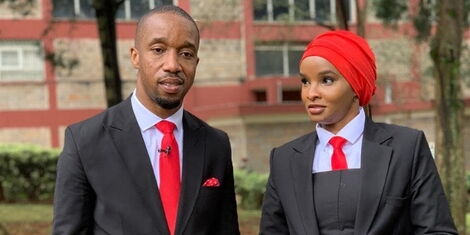 Citizen TV's power couple Rashid Abdalla (left) and Lulu Hassan (right) during the launch of the Building Bridges Initiative (BBI) on Monday, October 26, 2020, at the Bomas of Kenya, Nairobi